Posted by Dan Goodman on 28th Oct 2020
Avalanche airbag backpacks are an investment worth taking seriously. Not only are they a potentially life-saving tool for backcountry skiing, but they're also undeniably expensive.
Although there are some commonalities across all airbag packs, there are also critical differences you'll want to consider when looking at avalanche backpacks, even from a given brand.
Black Diamond's fan-powered JetForce Airbag Backpacks are undisputed class leaders in this space. In addition to being reusable and easy to transport on a plane, they've also proven to be extremely reliable, which has made them a popular choice among the backcountry touring set.
That said, there's a reason that Black Diamond chose to make more than one model of their famous JetForce Airbag Backpacks.
The main difference between these two Black Diamond backpacks boils down to the JetForce Tour using the Alpride E1 airbag system, which is lighter than the JetForce Pro Airbag system, but isn't as robust and takes up more room in the pack. The Pro also adds on some other useful features, which translates to increased weight and price.

But, leaving it at that overlooks the main reasons you'd want to trust your life to either of these ski packs.
Let's take a deeper dive into the important aspects of an avy pack to see how these two Black Diamond ski backpacks stack up. We'll explore differences in pack weight, price, airbag systems, and unique features of each before reaching a conclusion about each one.
Weight
Weight isn't everything... unless you're skiing out of bounds.
Backcountry skiers are notoriously hard-headed and stubborn when it comes to weight. If a backcountry enthusiast isn't telling you about how lightweight their boots are, they're almost certainly bragging about their pack weight.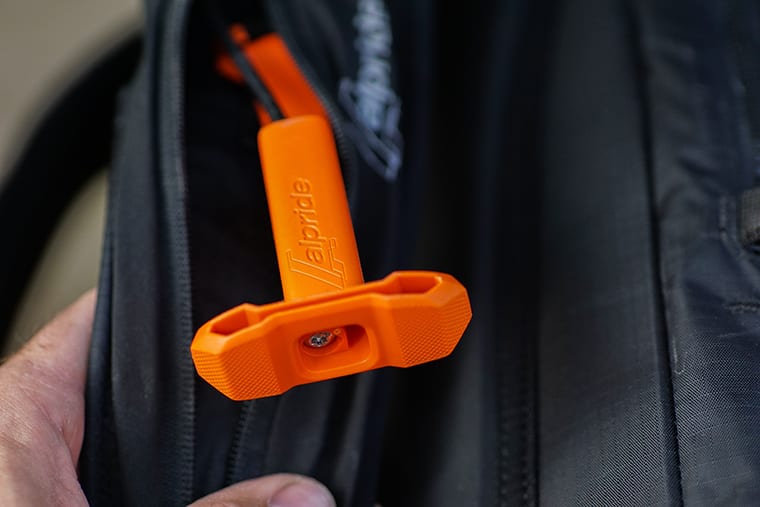 Both of these Black Diamond ski backpacks come in at relatively low weights for avalanche backpacks, especially since neither of them use a canister system. But, the Tour weighs up to 12 ounces less than the Pro model. That's the better part of a pound, which you will likely start to notice at the end of the day, or a week into your next hut trip.
Advantage: JetForce Tour 26 Avalanche Airbag Backpack

Price
We realize that the price-conscious backcountry traveler may overlook all of the JetForce models in the first place. After all, spending $1,200 or more on a ski backpack might seem extravagant when you consider that it's a piece of gear you hope you never need to use in it's full capacity.
But, the fact that the Tour is $200 less than the Pro is worth mentioning if the price is a big hang-up for you. That is, after all, conveniently just less than a brand new Carbon Whippet Ski Pole.
Advantage: JetForce Tour 26 Avalanche Airbag Backpack
Airbag System
Here's where we find the first striking difference between these two avalanche backpacks.
The JetForce Tour features the Alpride E1 airbag system, a fan-based design charged by supercapacitors that power a radial compressor fan to quickly inflate the 170-liter airbag. These supercapacitors live inside of the airbag system and can be charged via micro USB or by two AA batteries, for a full charge within an hour, making it user friendly for hut trips.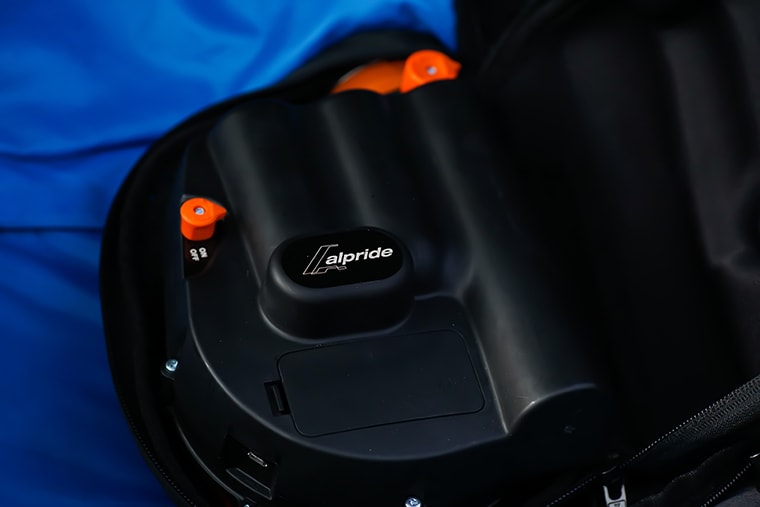 The JetForce Pro also sports a proprietary JetForce Pro system. This system utilizes a rechargeable lithium battery that powers the inflation of the 200-liter airbag.
On the surface, both appear to offer similar benefits. Both are lightweight, easy to travel with, and because they are fan-based, they let users practice operating the system without having to pay every time they do so.
While that completes the list of benefits for the Alpride E1 system, the JetForce is just getting started. Not only does the JetForce Pro airbag offer options for greater inflated volume, vital to staying on top in an avalanche, it also offers more in terms of usability and safety features.
Unlike the Alpride E1, the JetForce Pro system doesn't stop running once the bag is fully inflated. It features a puncture recovery mode that continues to inflate the airbag in case it is punctured or torn during an avalanche. And after three minutes, the fan reverses and fully deflates the airbag to create a 200-liter air pocket, which could buy you precious time under the snow.
The JetForce system also offers multiple deployments, up to four, on a single charge, meaning that you don't have to worry if your battery isn't completely charged when you head out the door.
It also connects via Bluetooth to the Pieps app so you can easily update the firmware at any time.
Yes, the JetForce Pro system is heavier and more expensive, but truthfully, we think those drawbacks are worth it for the advantages it offers over the Alpride E1 system.
Advantage: JetForce Pro 25 Avalanche Airbag Backack

Unique Features
When compared with other packs on the market, both offer some unique options like the ability to switch the airbag handle to either shoulder strap, tuck-away diagonal ski carry that lets you inflate the airbag with your skis on your back, and status indicator lights that tell you if your system is working properly.
But, when put head to head, the differences become obvious.
For starters, and this is a big one, the airbag system in the Tour takes up an obnoxious amount of usable interior space, where the Pro is tucked neatly out of the way.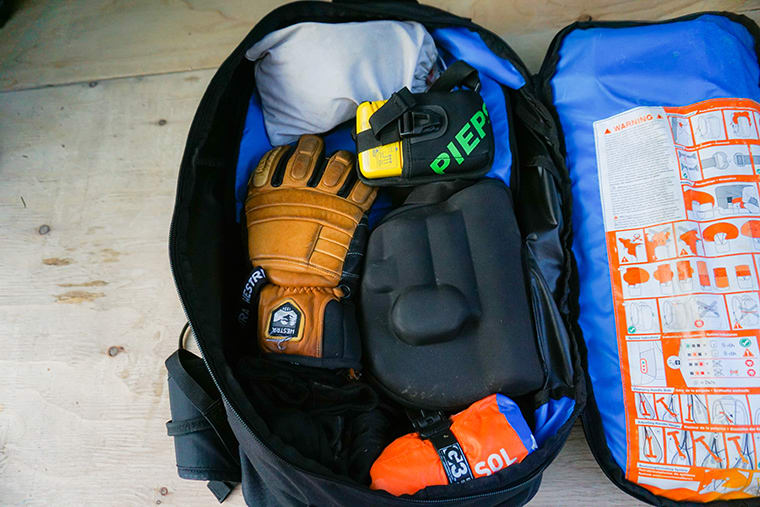 In addition to reducing your storage area considerably, the Tour's airbag system is activated by turning a small knob that lives inside the pack's main compartment. This is next to impossible to achieve without spilling the contents of your pack everywhere, especially while wearing gloves.
In comparison, theJetForce Pro can be readily activated or deactivated with the push of a button on the airbag handle. This handle also conveniently houses the status indicator lights, so you can check your battery and turn the system on without needing to remove your pack. To say this adds convenience would be a massive understatement.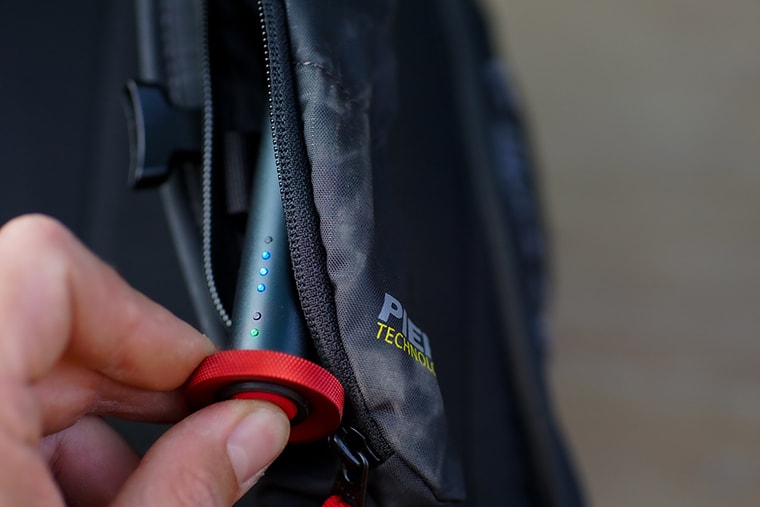 Black Diamond also gave the Pro a modular system, meaning that for only $69.95, you can swap out the 25L pack size for a 10-liter, 35-liter, or 25-liter splitboard booster pack, giving you options for everything from heli-skiing to dawn patrols before work to multi-day hut trips.
Add on the retractable leg-loop strap with attached carabiner, roomy avy tools pocket, and a more ergonomic ski carry, and you have a ski backpack that's more versatile and overall better suited to serious backcountry use.
Advantage: JetForce Pro 25 Avalanche Airbag Pack

Conclusion
Despite similar names and designs, these two Black Diamond backpacks have substantially different components.
If you want to get something that lets you go as light as possible and gets you a reusable airbag at a lower price, the JetForce Tour has what you need.
However, if you've already made peace with spending four figures on an airbag pack, the extra features offered by the JetForce Pro easily justify the increased cost and weight. Overall, we think it's the better choice for anyone who wants a more convenient design and doesn't mind carrying around a few extra ounces on their back.
About Campman
Campman is an outdoor retail store located in Salt Lake City, Utah, that specializes in gear and equipment for camping, skiing, backpacking, climbing, and everything in between. We understand that the difference between a bad memory and the adventure of a lifetime can come down to the gear you take with you when you head outdoors, and we want our customers to have the best experiences possible. When it comes to getting outside, we get it, and we'll get you the gear you need to get there.
About the Author
Dan Goodman
Most of the year, Dan can be found chasing the best climbing conditions he can get his hands on, and in the dead of winter, he'll settle for chasing powder on his snowboard. He's constantly seeking out better gear, testing new climbing shoes, backpacks, sleeping bags, and more to make his life in the outdoors a bit more comfortable. When he's not outside putting his gear to good use, he's writing about the products that he knows best.