Posted by Dan Goodman on 8th Feb 2023
There seems to be something mythical about the SCARPA Mago Climbing Shoe. At virtually every crag, you can find someone magically unlocking redpoints or mystically onsighting the toughest route on the wall wearing the Mago.
And maybe there's something to it — the Italian word Mago does translate to magician.
Even the way SCARPA talks about the shoe makes us wonder if it really has some fantastic qualities. It's stiff but highly sensitive. It both edges well and smears with the best of them. And it's aggressive and downturned yet remarkably comfortable.
That sounds like a shoe we'd write home about, or at least a blog post. But does the Mago live up to its famed reputation? We snagged a pair for ourselves and put them to the test.
Features
X-Tension Rand
Creating a shoe that is both stiff and sensitive means creating a unique rand. The X-Tension rand works by adapting to dynamic changes in your foot shape to effectively drive power to the front edge of your shoe at all times. Working on a half-pad shoe like the Mago, this rand gives you the feel of a much stiffer shoe on micro-edges, while still providing a more sensitive feel.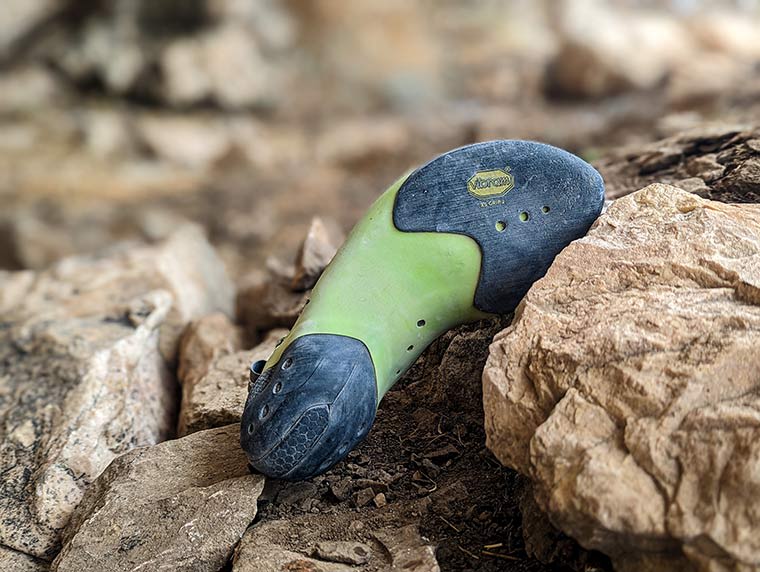 M50 Toe Patch
Ultra-soft and highly pliable, the redesigned toe patch features SCARPA's M50 rubber for the very best stick. And, as SCARPA's softest rubber compound, this patch increases the shoe's sensitive feel, a welcome addition for anyone who struggles with stiff boots.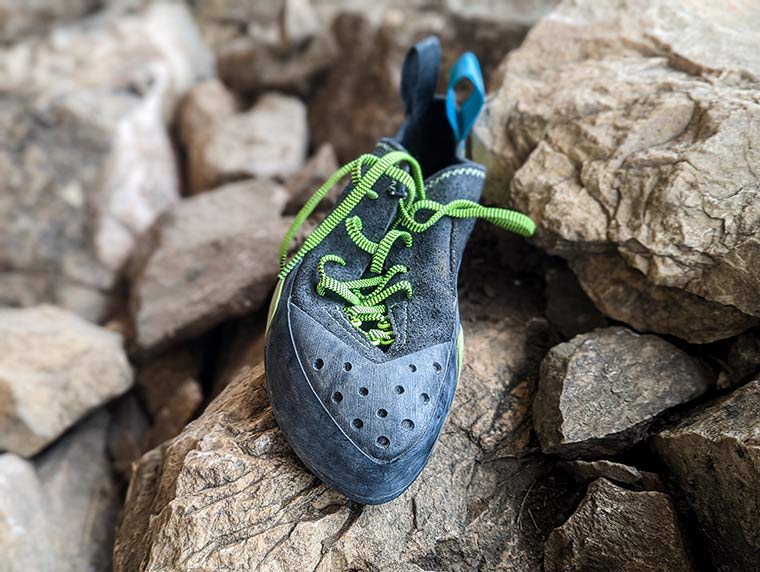 Vibram XS Grip 2 Rubber
Previous iterations of the Mago used a stiffer Vibram XS Edge Rubber. SCARPA updated the outsole with Vibram XS Grip 2 rubber for even greater sensitivity. It gives you enough support to toe down on tiny edges without feeling like you have wooden blocks for feet.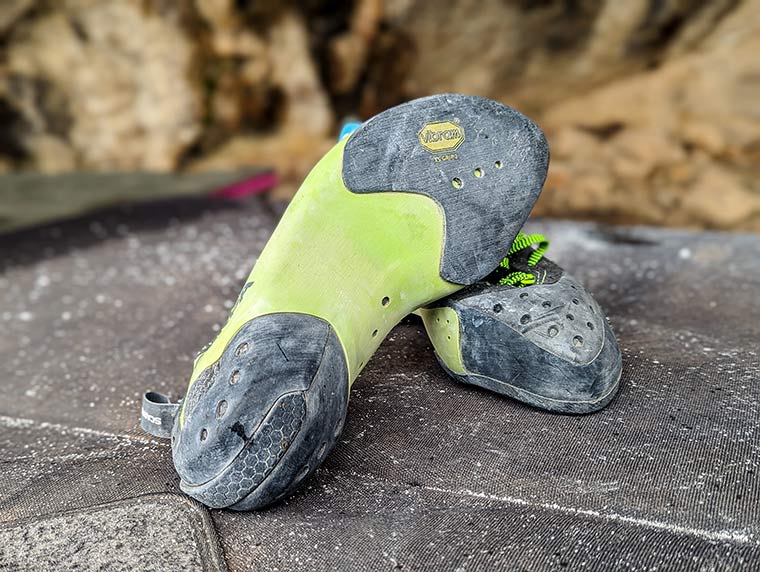 TPS Insert
Perhaps the Mago's most talked about feature is the Toe Power Support (TPS) insert. This ultralight insert is positioned under the forefoot to add support for edging. If you're smearing instead of edging, the insert extends and increases the sole's contact surface against the rock. This small, ultralight insert might be the biggest player in the Mago's famed existence.
On The Rock
True to the hype, the Magos performed well across multiple disciplines, rock types, and steepnesses. Unsurprisingly, these shoes excel on micro edges and small, glassy feet that would make most other sensitive shoes shiver in their boots.
From technical, dead vertical routes to steep, cave-like boulder problems, these shoes can stand with the very best when it comes to stiff toe platforms. And it all comes together in a shoe that feels far more like a soft Chimera or a Drago on your foot than an ultra-stiff Instinct Lace.
The X-Tension Rand certainly does its job of providing stability and support while still allowing you to grab with your feet, flex your foot, and press with your toes. Vibram XS Grip 2 rubber helped bring out the supportive yet soft qualities of the shoe, and tricky toe hooks felt comfortable and secure with the reinvented M50 toe patch.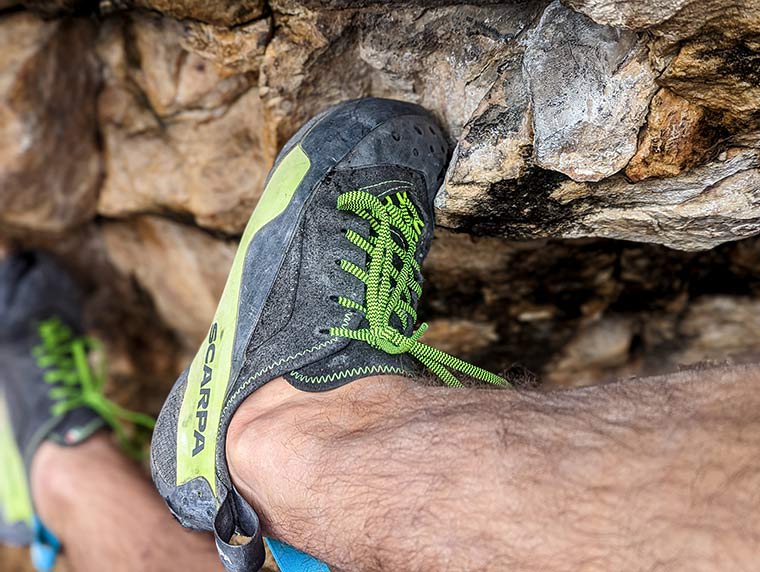 The Mago also smeared surprisingly well, without folding under the pressure of a paste. Sure, it wouldn't be the first shoe we would reach for on glassy granite slabs, but for the occasional smear in between edges on a limestone cave route, we have no complaints.
The only places we found the shoe to struggle more than others were in tight pockets and on highly technical heel hooks.
When it comes to pockets, you want a low-angle toe profile to maximize the amount of rubber in contact with the rock. Unfortunately, the Mago's toe is closer to 90 degrees than any low angle. We would hate to find ourselves trying to use these in the tight pockets of a place like Ceuse.

The heel cup works well for most applications, especially in steep cave climbing where the holds tend to offer a greater margin for error. It uses a thick I-beam of rubber down the middle, and there's fabric along the sides. But as soon as we cranked hard on a small surface, we wished that the I-beam was a bit wider and that the entire heel cup had more structural integrity.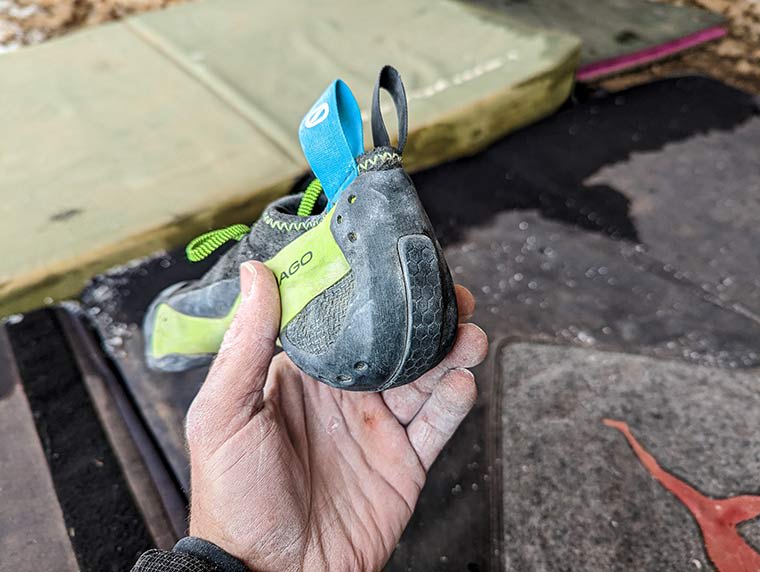 Even in shoes that fit perfectly, the fabric on the side of the heel cup tends to bubble out, creating space between your heel and the heel cup itself. It's not a game changer for most applications, but also doesn't promote a high degree of confidence when your heel hook is of vital importance.

What We Like
TPS Toe Insert - Adding a surprising amount of support to an otherwise soft shoe, this insert makes it easy to trust any micro edge you encounter.
M50 Toe Patch - Not only does the soft rubber do a fantastic job conforming to your foot shape, but the ultra-sticky compound gives you confidence for technical toe hooks and bikes.
Sensitive Feel - Most edging specialists feel a bit clunky once you take them cave climbing — but not the Mago. Combining the benefits of the X-Tension rand with the slightly less stiff Vibram XS Grip 2 compound gives these shoes the precision you want in the steeps.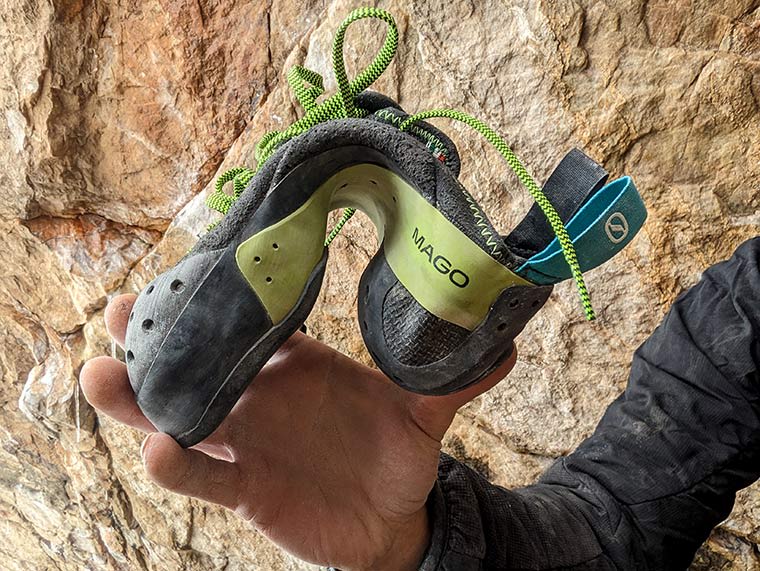 What Could Be Improved
Heel Cup - The soft fabric on the sides of the heel tends to bulge out, making you feel like you might lose your shoe, and the softer I-Beam ridge down the back works well enough for most applications but fails on more technical heel placements where something like an Instinct or a Boostic might excel.
Toe Profile - Although it likely makes for a more comfortable fit, the toe profile increases the volume of the toe box enough that it is difficult to use this shoe effectively in pockets.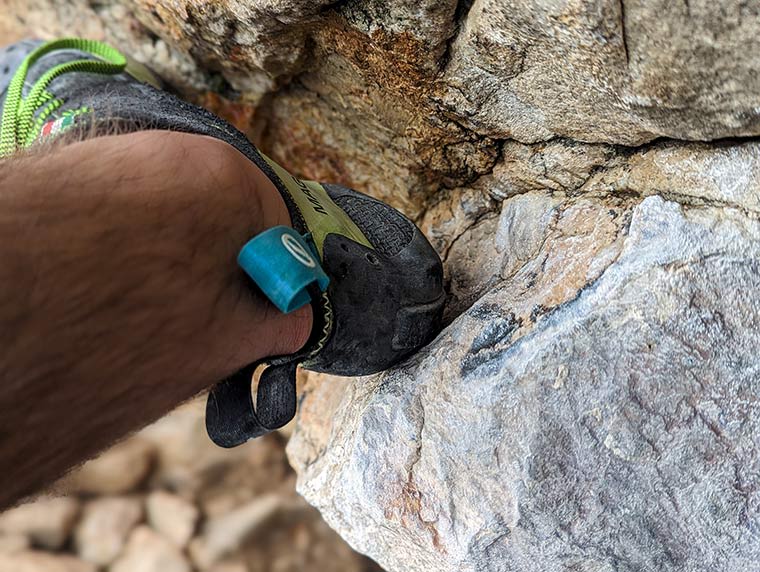 Sizing
Most reviewers, including our own, sized up ½ size when compared to the Instinct line. For reference, our reviewer wears the following shoe sizes:
Street Shoe - U.S. Men's 11 or EU 44
SCARPA Mago - Size 42.5
SCARPA Instinct Lace - Size 42
La Sportiva Solution - Size 41.5
La Sportiva Skwama - Size 41
Conclusion
There's no denying that the Mago has something special about it. The combination of stiff, edging prowess and sensitivity certainly puts this shoe into a league of its own. In its third generation, the Mago has gone through plenty of thoughtful R&D to create something that looks good and climbs even better.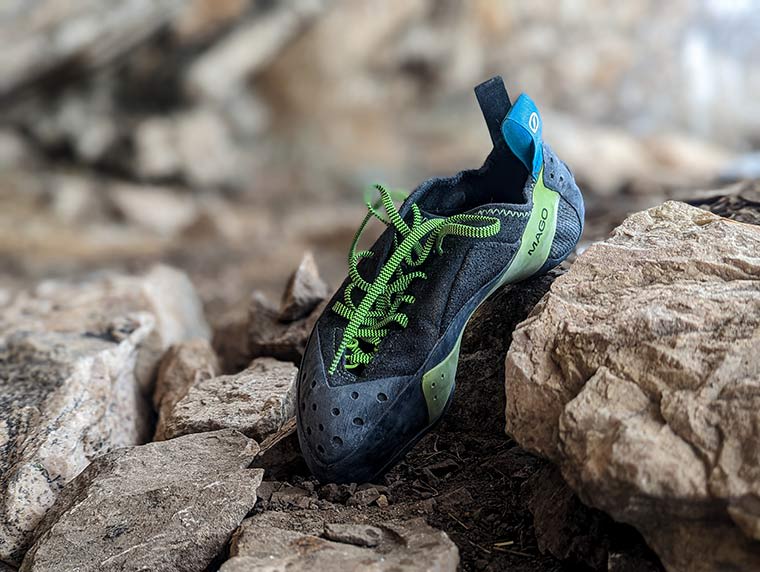 As a pseudo-specialist, the SCARPA Mago is ideal for the climber who primarily finds themselves scaling gently overhanging terrain, whether that be bouldering or sport climbing. The fact that it climbs the steeps as well as most other soft shoes is definitely a bonus for those looking for a one-shoe-fits-all design as well.
And despite any gripes we have about the toe profile or heel cup, those were minor flaws in an otherwise one-of-a-kind climbing shoe.