Posted by Derek Newman on 6th Jan 2023
Salt Lake City's Wasatch Range might be host to a plethora of world-class ski resorts, but its backcountry is where you'll find the best snow on earth. Since it's just as challenging to get the lay of the land as it is to take an avalanche course, here are two backcountry areas in the Wasatch Range that beginners and touring tourists should check out first. The Wasatch's finest spots for skiing are Big and Little Cottonwood Canyons, so we decided to cover one area per canyon.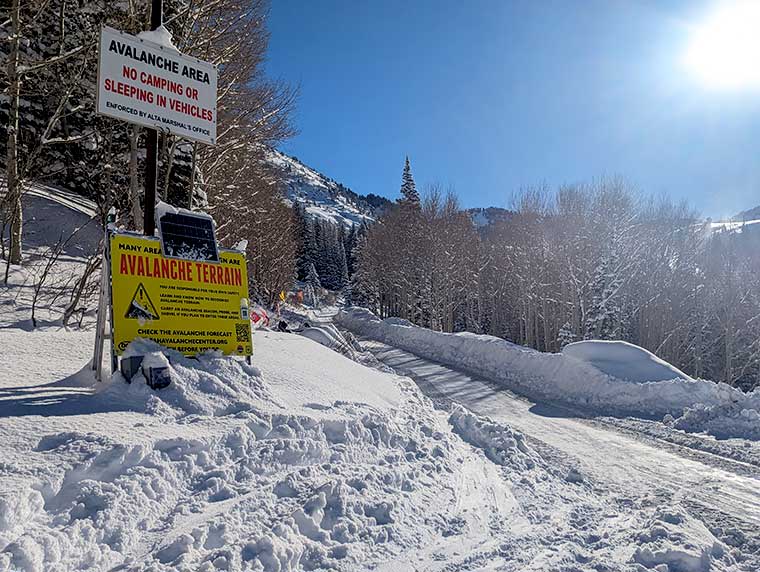 Travel in backcountry terrain is inherently dangerous. We recommend that all backcountry-goers take a Level 1 avalanche safety course and an avalanche rescue course to learn essential skills before traveling in avalanche terrain on their own. None of the areas discussed in this article should be considered as inherently safe or avalanche controlled.
Lil' Griz - Little Cottonwood Canyon's Grizzly Gulch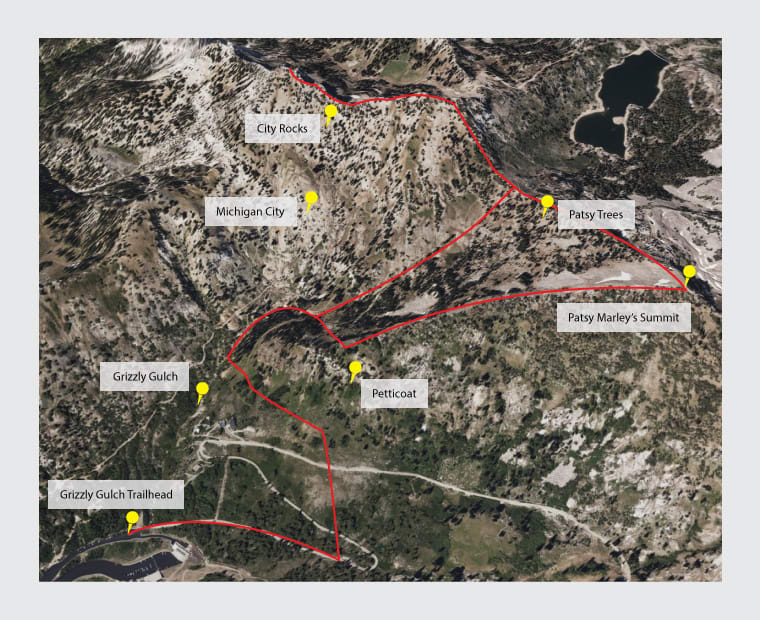 Parking Lot/Trailhead
At the top of Little Cottonwood Canyon, Grizzly Gulch's scenic spot provides plenty of amazing backcountry tours. The trailhead starts just above Alta Ski Resort's parking lots (be sure to check Alta's Parking for any paid parking reservation requirements), and the first mile on the skin track has a stunning view down Little Cottonwood Canyon. From here, you can plan the rest of your SLC trip, conduct beacon drills, or dig your first snow pit.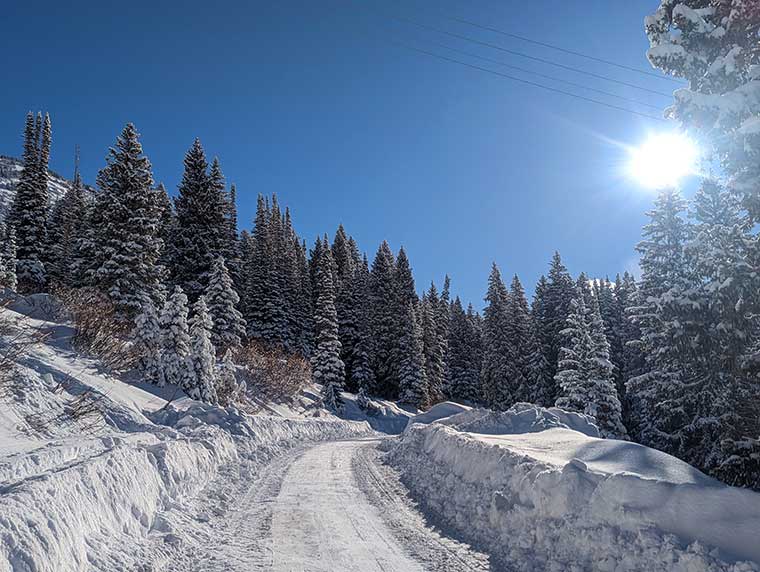 Main Skin Track
The main skin track starts to wrap around the bottom of a run called Petticoat, and from here you can get a clear view of all the options available for riding back to the car.
The track then heads straight up to Twin Lakes Pass, a saddle separating the two main peaks in Grizzly Gulch. The peak on the left is Honeycomb Ridge, and if you choose that route you'll find Solitude Ski Resort on the other side of the summit. Patsy Marley is the peak to the right of Twin Lakes Pass, and its summit has the best scenic view out of any area in this blog.
Honeycomb Ridge
The rides down Honeycomb Ridge are generally lower in angle and usually the first to be farmed when the avalanche danger is higher. There still are steeper sections, and it goes without saying that significant avalanche training is required whenever you're out in the backcountry. It's just that between the two peaks, Honeycomb Ridge is usually the smarter choice.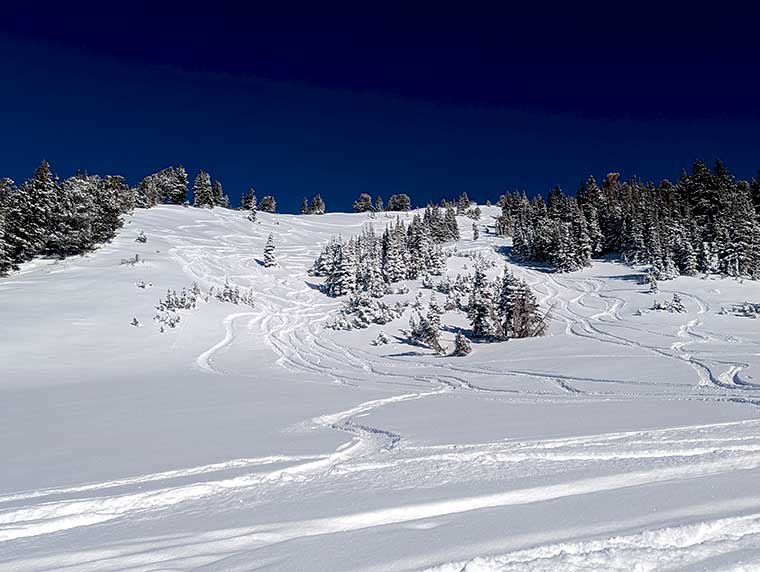 Michigan City is the most popular line on that side of Griz, but all of them are incredibly similar in terms of slope angle and aspect. You might notice a run called City Rocks, and all our old backcountry skis can tell you that ride lives up to its name. This side of Griz sees the most sun, and the snowpack is generally thinner and rockier.
Patsy Marley
On the shady side of Grizzly Gulch, Patsy is a solid choice for powder hounds. The snowpack is a bit bigger than the sunnier side, and powder tends to last. There are plenty of trees between Petticoat and Patsy Marley's summit, and the line called Patsy Trees is between Twin Lakes Pass and Pasty Marley peak.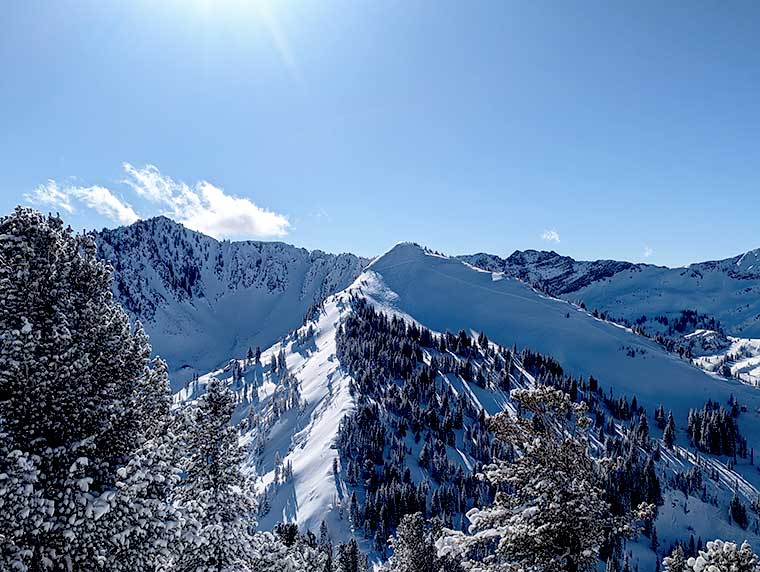 The summit itself is hands down the most prone to slide in all of Griz. The average angle on this side exceeds 25 degrees and should be ridden cautiously, especially given the fact that there are usually people touring on the main skin track right underneath the ridge.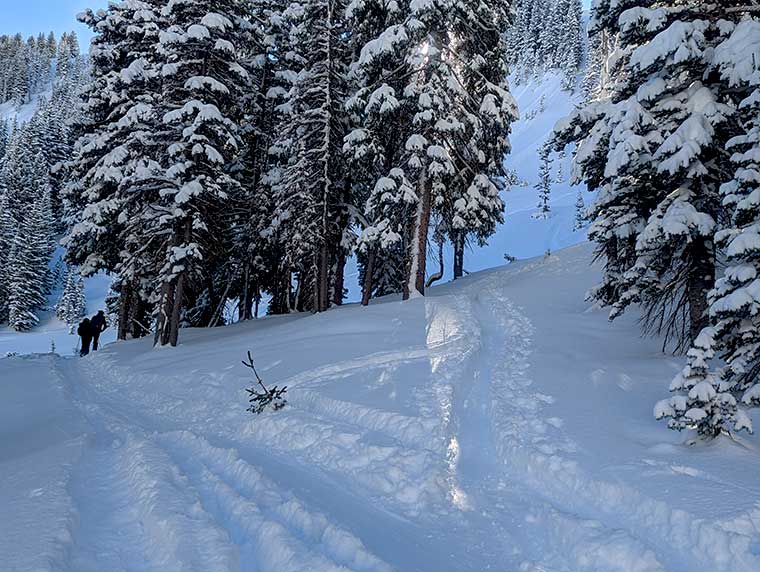 If you want to tour this side, there's usually a skin track breaking off from the main on the other side of Petticoat. It shoots straight up the ridge, and from the ridge all the way to Patsy's summit. Beyond Patsy Marley is Wolverine Cirque, which is almost a complete gallery of the Wasatch's greatest chutes, and only recommended for experts.
Big D - Big Cottonwood Canyon's Mill D North Fork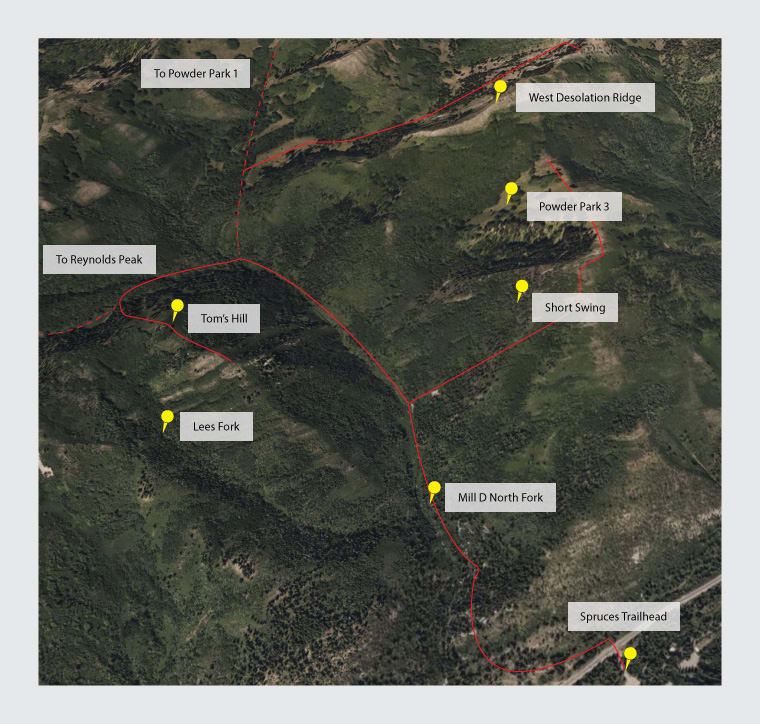 Parking Lot/Trailhead
In Big Cottonwood, there's no better area for beginners and out-of-towners than the North Fork of Mill D. It's about 2/3rds of the way up the canyon right before Solitude Ski Resort. There are hard-to-miss signs for Mill D's parking lot (unlike Griz, this parking is always free), and a pleasant warmup across the road brings to an equally pleasant start of the skin track through homes we wish we owned.
Past the homes, there's a gate that's sometimes–hopefully–covered in snow. Beyond the gate it's game on. The main skin track can take you all the way to Sheep Shit Ridge (above Powder Park 1), and you'll find a plethora of skin tracks breaking off through various tree runs.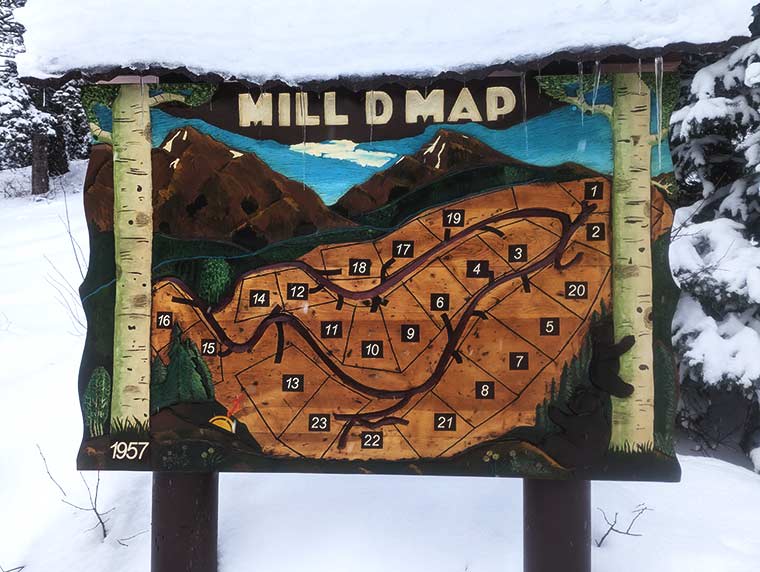 Short Swing
The first turnoff you'll come across is Short Swing, and although it appears to be low-angle the whole way up, there are tiny steep pockets throughout. Short Swing might be one of the smartest choices in the Wasatch on high-avy days, but there's always something to look out for. Most local backcountry skiers consider this line to be one of the best for beginners and out-of-towners.
Tom's Hill
Past Short Swing is the infamous Tom's Hill, which is mentioned in the book Staying Alive in Avalanche Terrain. In it, Bruce Tremper mentions in all his years of touring the Wasatch, he's never seen a slide on Tom's Hill. Again, that's not to say it isn't possible. As my avalanche instructor said, any hill that's skiable is also slide-able. That being said, Tom's Hill is a favorite line on powder days. Once it's tracked out, Weathering Heights on the other side of Tom's Hill is also super enjoyable, and a fun way to exit Mill D.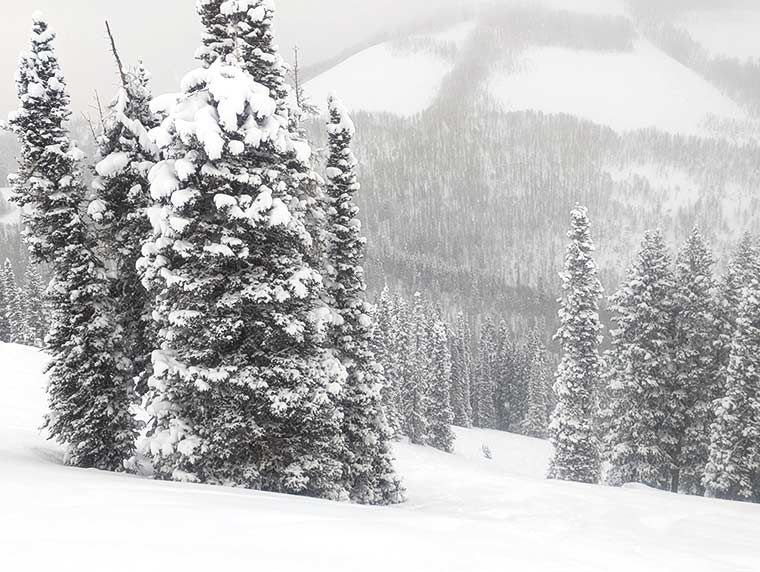 Powder Parks and Beyond
All three Powder Parks live up to their names on powder days, too. They were also considered unslide-able at one point or the other, but Powder Park 3 actually slid a few years back. When the powder's a plenty, be on your guard. When the avalanche danger is minimal and the mountain's inviting, take a tour up to Reynold's Peak for a great view of Big Cottonwood Canyon and some pretty solid peak-riding. Between the three parks, Tom's Hill, Weathering Heights, and Short Swing, you have plenty of options for a full trip of touring in a relatively safer area compared to others in the Wasatch Range.
Conclusion
Of course, there are even more downhill options in Big D and Lil' Griz. The ones mentioned are simply the runs we'd recommend to beginners and out-of-towners. Both are particularly pleasant on powder days. When the avalanche danger is high, we'd recommend Short Swing in Mill D. If conditions are more welcoming, Patsy Marley's summit gives a great view of Little Cottonwood Canyon as well as some solid lines. Regardless of avalanche conditions, we'd like again stress the significance of taking an avalanche safety course and an avalanche rescue course. Also, be sure to check out Wasatch Backcountry Skiing for a full map of both Big and Little Cottonwood Canyons when it's time to check out other areas.