Posted by Derek Newman on 18th Apr 2023
Shopping for climbing shoes can be the first crux you come across in the vertical world. They come in all sorts of uncomfortable shapes and bizarre colorways, and if you're simply shopping for a shoe that matches your outfits, you'll likely end up climbing in incorrect footwear. We curated a list of climbing shoes to guide you through the wide world of vertical footwear. First, let's cover a few distinguishing features that specify each shoe's recommended use.
Profile
A climbing shoe's profile is the main determinant of its specific use. You can figure out a shoe's profile by looking at its side. If the sole arches in a curve, called a downturned profile, the shoe is more appropriate for advanced climbers. Soles as flat as regular shoes give the performance and comfort that beginners need to focus on climbing classes and not foot pain.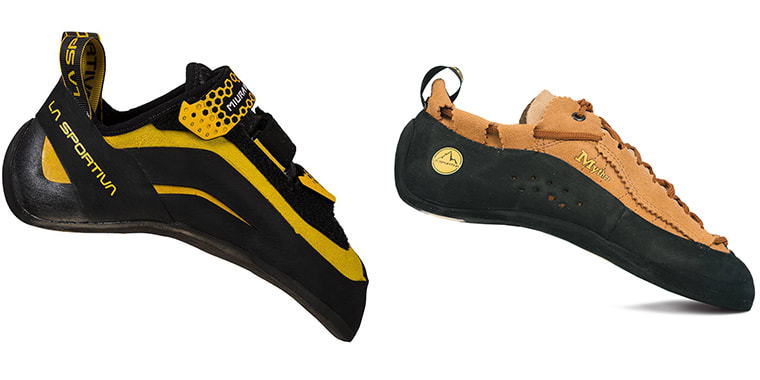 That's not to say that flat-profiled climbing shoes are only for beginners and downturned climbing shoes are only for experts. Some flat shoes were made for very specific styles of climbing like slab or cracks. Some downturned climbing shoes are surprisingly comfortable, and they could be designed for extremely thin cracks or long overhangs. They're better once you have a few redpoints and onsights under your belt, but we'd recommend something flatter because they're generally more comfortable.
Asymmetry
You'd think a shoe's downturn would be the major factor in how comfortable it feels, but what's more telling is a shoe's asymmetry. To see its asymmetry, look at the shoe from the top or bottom. Imagine a straight line running from the center of the heel to the front of the climbing shoe. If the line reaches the center of the toe box, the shoe's asymmetry is low. If the toe box is off to the side, then its asymmetry is high. The lower the asymmetry, the comfier the climbing shoe.
Here's a matrix to clarify climbing shoes' relationships between profile, asymmetry, comfort, and skill level:

Rubber
The sole's rubber might be the biggest selling feature and differentiator between brands. Many brands develop their own proprietary rubber formulas for specific types of climbs ranging from sharp-and-slippery limestone to greasy plastic in the gym
Although they have their own rubbers, SCARPA and La Sportiva usually opt for Vibram rubber for its well-known, reliable traction. SCARPA and La Sportiva each use three different types of Vibram for specific applications.
Vibram XS Edge is a tougher, stiffer rubber compound constructed for technical climbs with plenty of edges. This rubber is often considered the best rubber for edging. Vibram XS Grip is the greatest all-round option, excelling in the gym, at the crag, and on boulders. Lastly, Vibram XS Grip 2 is especially refined for tough climbs like overhung boulders and competitions.
SCARPA and La Sportiva also have their own proprietary rubber. La Sportiva has friXion, and SCARPA has Vision. These rubbers are generally used for beginner climbing shoes because they're a more affordable alternative to Vibram. And despite the cheaper prices they're still solid sending tools despite the cheaper prices.
Flexibility
Flexibility determines a lot about when and where you might choose to wear a specific pair of shoes. The stiffest shoes give great support for multi-pitches and dead-vertical climbs. Softer shoes excel on just about everything else. From slabs to overhangs, softer shoes adapt to the climb's angle for better smearing on a variety of surfaces.
The main factor that determines a shoe's flexibility is the midsole. Every brand has their own proprietary midsoles, but it's more important to look at the midsole's thickness. The thicker the midsole, the stiffer the platform.
Upper
Uppers are composed of synthetic or leather, and usually have rubber covering the toe, heel, or the top of the foot. Leather uppers are prone to stretch for an adaptable fit that conforms to your foot shape. Synthetic uppers might not stretch as much as leather, but they make up for it with greater durability. Regardless of upper construction, if a lot of rubber covers the upper, then it'll limit stretching, bolster strength, and make it easier to toe-hook.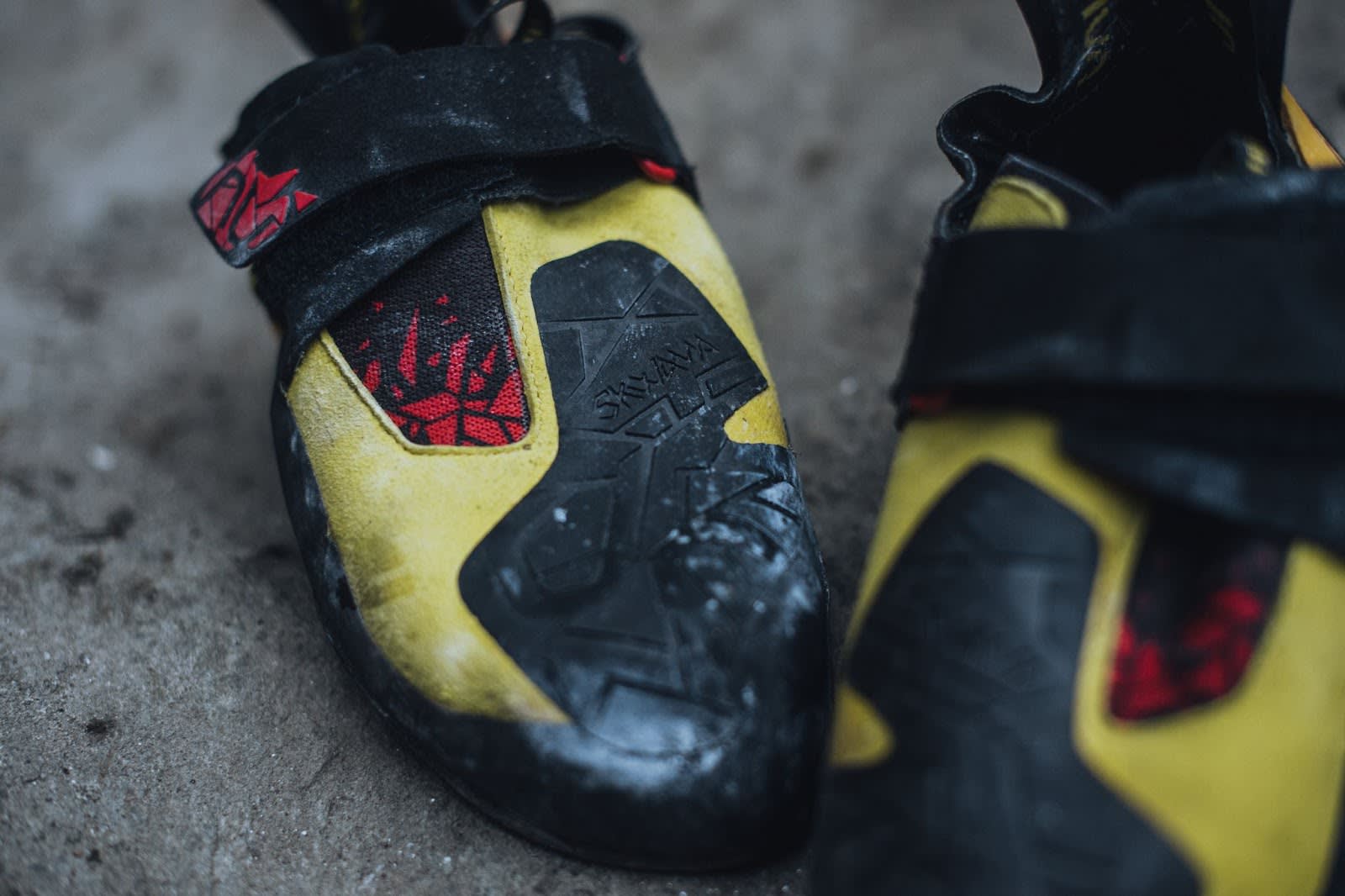 Some uppers are unlined for greater pliability, stretch, and sensitivity. Uppers that are lined are generally more robust and longer-lasting. Some linings are cotton for extra softness, but most are synthetic for an extra layer of durability.
There are three different types of closures for uppers. Hook-and-loop straps are the most popular as they're quicker to take on and off. Laces allow greater customization for a snugger fit regardless of foot shape. Slippers don't have a closure at all, except stretchy side gussets that help with on-and-off.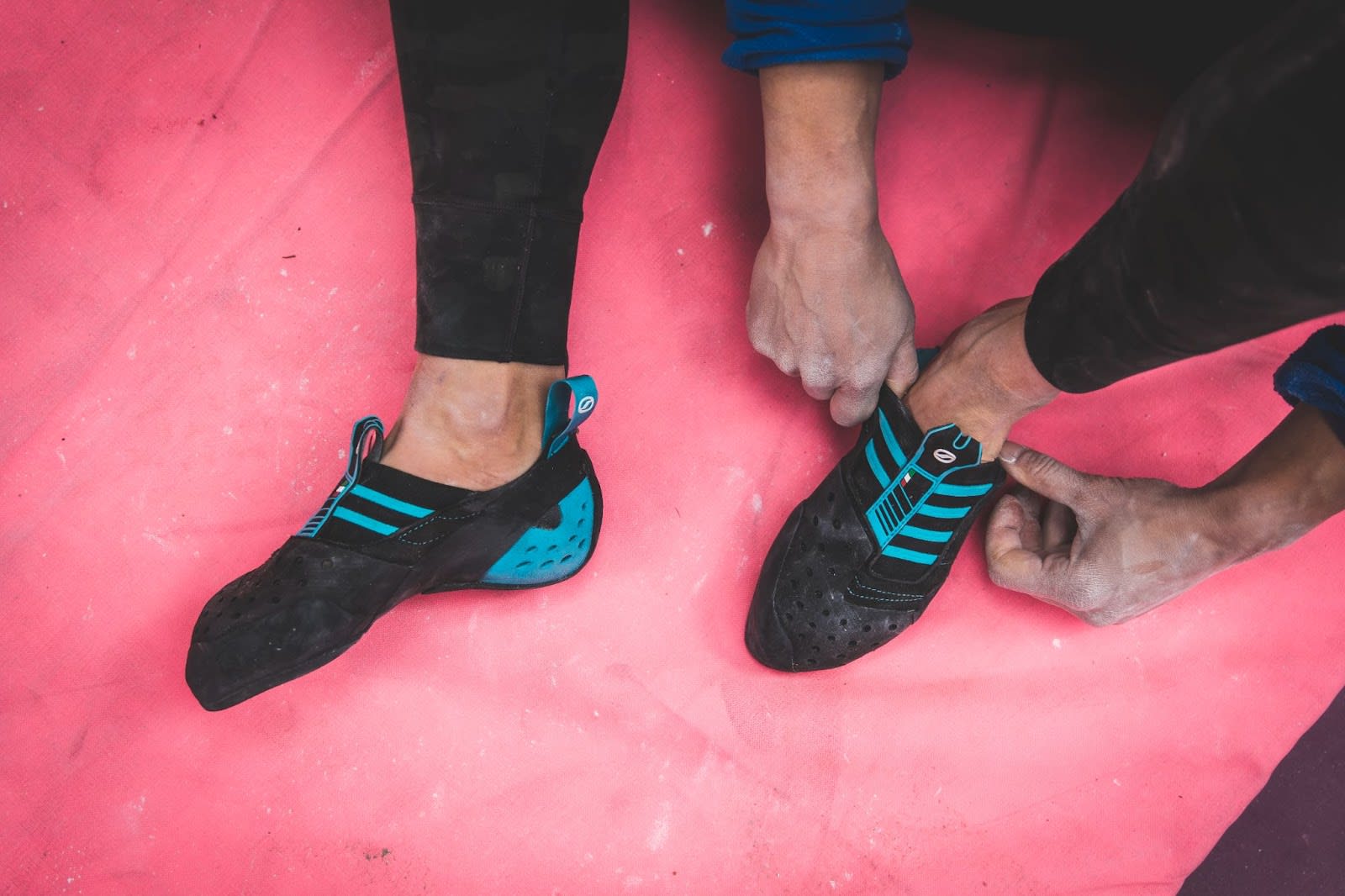 La Sportiva, SCARPA, and Evolv
Now that we've covered the common features that all climbing shoes share, let's dive into select climbing shoes by La Sportiva, SCARPA, and Evolv. We organized them by their primary climbing practices: beginner, sport, bouldering, gym, and trad.
Beginner
For beginners, we'd recommend the SCARPA Origin ( Men's and Women's), La Sportiva Tarantulace (Men's and Women's), or La Sportiva Mythos (Men's and Women's). They've all been fine-tuned for maximum comfort on the climb. The Origin is probably the most gym-friendly with its hook-and-loop closure. The Tarantulace is certainly the most budget-friendly beginner shoe.
The Mythos was one of the first climbing shoes ever, and it's certainly worth the price if you plan on jumping into the traditional style of climbing as soon as possible.
All three have flat profiles and minimal asymmetry to deliver plenty of comfort for new climbers. They're also all made of leather so expect some stretch. If you want to size down, we'd recommend only going a half size. It's better to focus on comfort than performance when you're learning the ropes.
Sport
Most beginners step into sport climbing as soon as they've learned a thing or two. Bolted lines seem to be the safest way to test everyone's fear of heights. Sooner than you think, you'll be testing your endurance on overhung routes at crags and gyms alike. For these intermediate-to-advanced climbers, we recommend the La Sportiva Skwama ( Men's and Women's), SCARPA Instinct VS (Men's and Women's), or the Evolv Shaman (Men's and Women's).
Their profiles are aggressively downturned, and the asymmetries are moderate to high, meaning they're on the comfier side of downturned climbing shoes. Sport climbers prefer slightly comfier options to boulderers because they're on the wall a lot longer, and it's a pain to take your shoes off when you're hang-dogging between bolts.
The Shaman was professionally crafted with the world-class, super-overhung sport crags of Oliana, Spain in mind. SCARPA's Instinct VS is one of the most popular shoes out there. And the Skwama is a very tight-fitting slipper specialized for gripping miniscule footholds on overhangs. All three have plenty of rubber over their uppers for excellent toe-hooking and stretch-resistance. Some sport climbers will go down a full size despite the shoes' limited stretch.
Bouldering
Some beginners turn to ropes, and others practice their power in the boulder fields. A dozen or so challenging moves take away all the strength in your fingertips. For bouldering, we suggest the La Sportiva Solution ( Men's and Women's), SCARPA Drago, and Evolv Phantom (Men's and Women's).
All three have sharp asymmetries and high downturns designed for power and precision. They might be pretty uncomfortable, but they're all quick-and-easy to take off in between burns on your projects. The Solution is the stiffest, most supportive option in the bunch. Both the Phantom and the Drago have extremely flexible heels and stiffer toes for a versatile performance on climbs of varying steepness.
Sizing down is pretty common in the bouldering community. Even though there's plenty of rubber over the toes that resist stretching, a tighter fit generally means greater performance. But a too-tight fit can be unnecessarily hard on your feet, so we'd suggest sizing down no more than a full size.
Gym and Competition

For training sessions in the gym and competition climbing, we'd recommend the La Sportiva Solution Comp ( Men's and Women's), SCARPA Instinct S, and La Sportiva Theory (Men's and Women's). This is the newest style of climbing shoe, and it's just as aggressive as most climbing shoes for bouldering and sport, except more sensitive. The uppers are usually unlined, and the midsoles are either super-thin or non-existent so climbers can feel the tiniest footholds for a greater chance at onsighting their way to gold.
It's worth noting that gym comp shoes aren't the most durable and don't last very long. Their dedicated focus to performing perfectly during comp day requires sacrificing longevity. Because they're so soft, expect these shoes to stretch a full size, maybe more.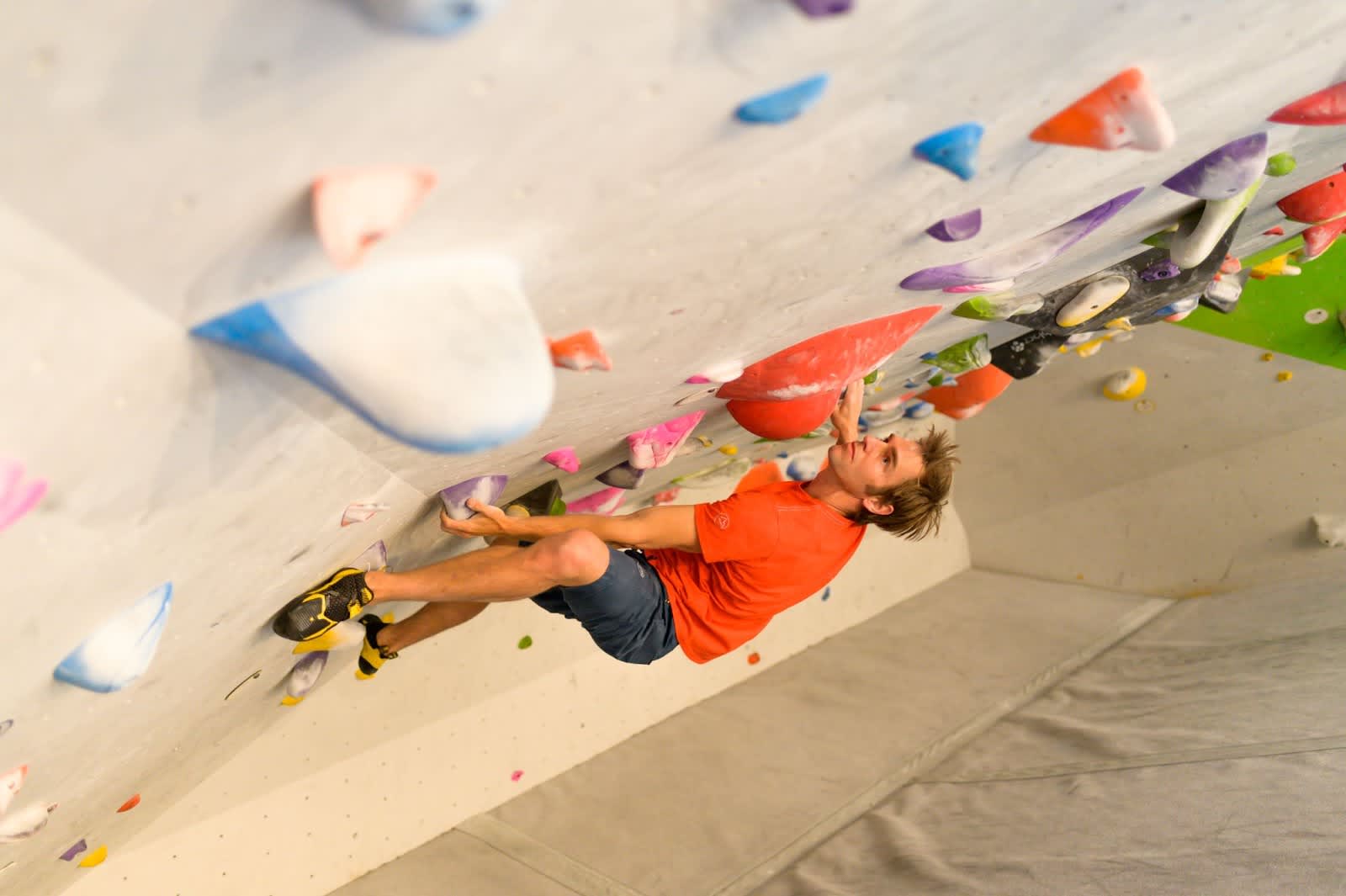 Trad
Trad climbing is more gear-oriented than an actual style, but trad climbing shoes cover a variety of climbing ranging from single-pitch cracks to boltless faces and even multi-pitches as grand as Yosemite's El Cap. Most trad climbing shoes are extremely comfortable with flat profiles and low asymmetries. Some shoes have a low-angle toe with a slight downturn for thin cracks. We suggest the La Sportiva TC Pro, Evolv Rave, and SCARPA Helix (Men's and Women's) for trad climbing. With a higher cuff and plenty of support, the TC Pro is hands down the most popular option for big walls. A lower cuff makes the SCARPA Helix a much comfier option for shorter multi-pitches and even some day-long routes. The Evolv Rave is one of the comfiest slippers out there, and it's fine-tuned for a solid performance on truly challenging trad climbs.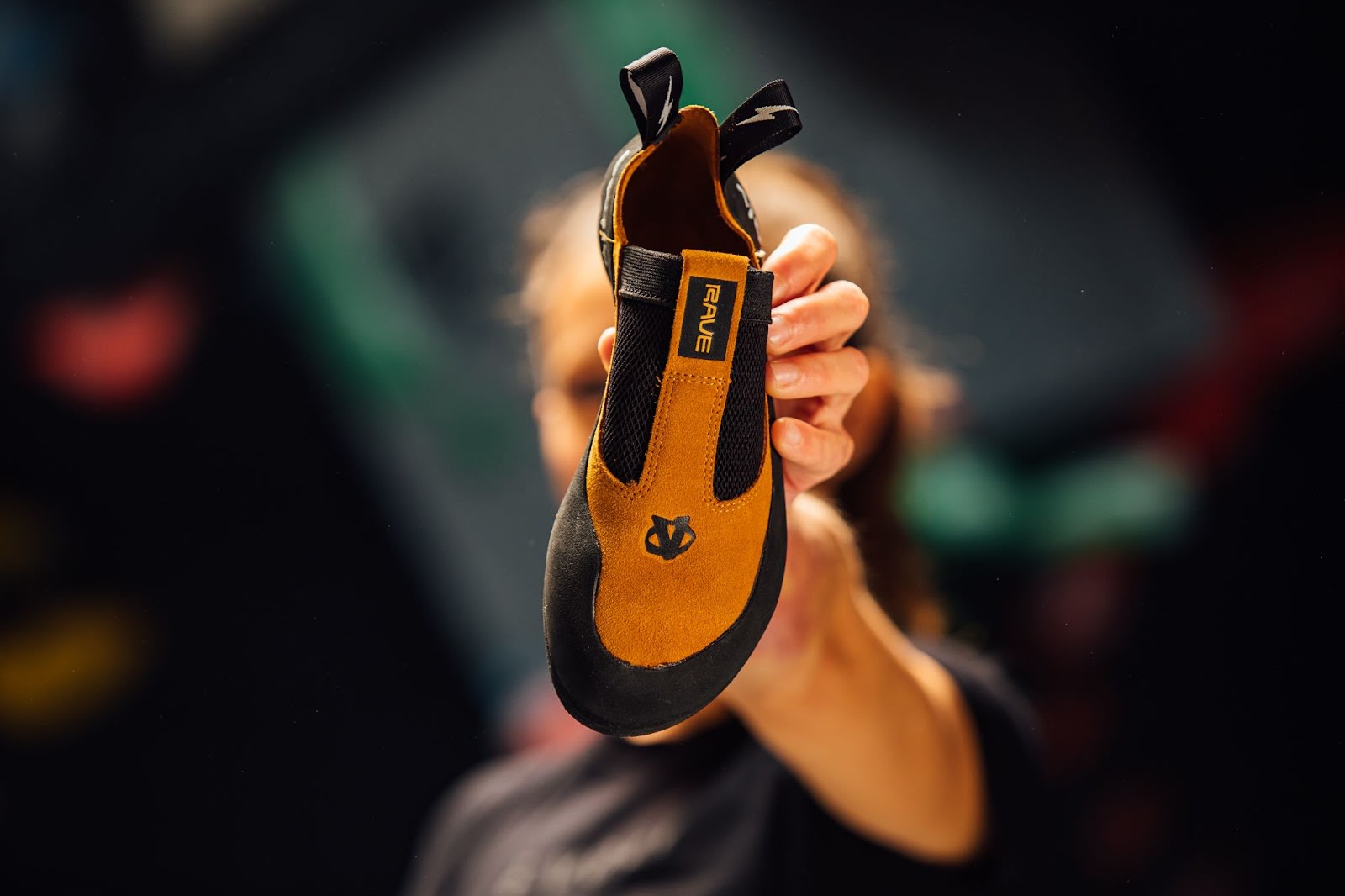 Conclusion
It's hard to specify a primary recommended use for each climbing shoe. You could realistically climb a trad route with a La Sportiva Solution Comp, and it could be fairly comfortable if you didn't size down at all. This is just a list of climbing shoes we'd recommend for each main style of climbing, and a little rundown of features to help you decide which shoe works best for you.
About the Author
Derek Newman
Born in the Wasatch, Derek has had an affinity for mountain life since day one. He was on skis the year he learned to walk, and as a high school graduation present he gifted himself rock climbing lessons. Nearly two decades later, Derek spends most of his time climbing up and/or skiing down most of the mountains around Salt Lake City, and he's traveled around the world multiple times for the sole purpose of peak exploration. When he isn't a man about camp, he's working in Campman's content marketing crew writing up blogs about backcountry skiing or rock climbing as well as describing products that he's used personally. He's climbed in most climbing shoes, toured on most backcountry skis, and ridden the resort on skis, snowboards, and even some evac sleds.