Posted by Garson Fields on 14th Jul 2021
In recent years, bikepacking has gone from a niche pursuit to one of the fastest growing facets of cycling, and brands have taken notice. As expected, this has produced a rash of questionably useful products to capitalize on the trend, but it's also driven the development of gear offering some undeniable advantages. And if you ask us, the Big Agnes line of bikepacking tents is at the forefront of the "undeniably advantageous" category, even if you're not planning to use them for bikepacking.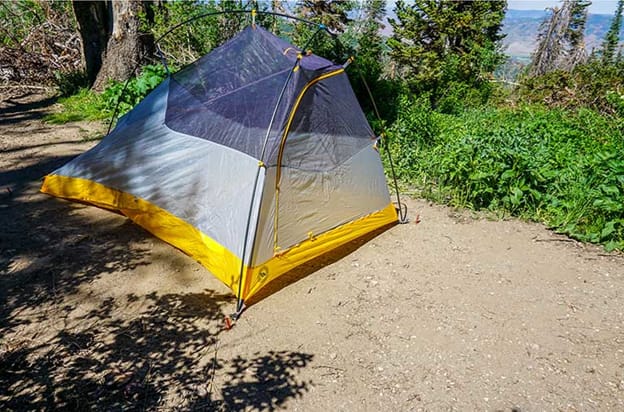 Big Agnes Fly Creek HV UL2 Bikepack tent. As Big Agnes's lightest two-person bikepacking tent, it does give up certain features that some campers may want, namely a second door, but the shortened tent pole segments, which make this tent ultra-compact, make it an outstanding choice for any camper who prioritizes packability.

What is a Bikepacking Tent, Anyway?
Big Agnes offers the Fly Creek series in a couple of different variations of both the one- and two- person sizes. And like all of BA's bikepacking line, the key differentiators are the tent poles and the stuff sacks.
In order to fit more easily on a set of handlebars, a rack, or a motorcycle fender, bikepacking tents are often built with shorter poles, in this case, BA's Shortstik poleset. Where the backpacking tent poles collapse to 18 inches, the Shortstik poles collapse to 12 inches. Far from being a bikepacking-exclusive feature, this reduced packed length should appeal to anyone looking for a more compact setup. Frankly, it's one of the coolest features of this tent.
regular version weighs 2 lbs 5 oz, and the solution dye version saves you an extra ounce.
If weight is your top priority, there's also the carbon version from BA's Crazylight series, which weighs a feathery 1 lb 7 oz packed. However, the carbon also costs more than twice as much as its heavier siblings, due to its generous use of exotic materials. As is usually the case with gear, going ultralight tends to lighten your wallet as well.
If you're a bikepacker, the choice is obvious. If not, consider whether weight or compactness takes priority for you. Given that the bikepacking version still comes in at just over two and a half pounds, it's hardly disqualified from use as a backpacking tent, but you may find that the compact form is of secondary importance if you're carrying that weight on foot.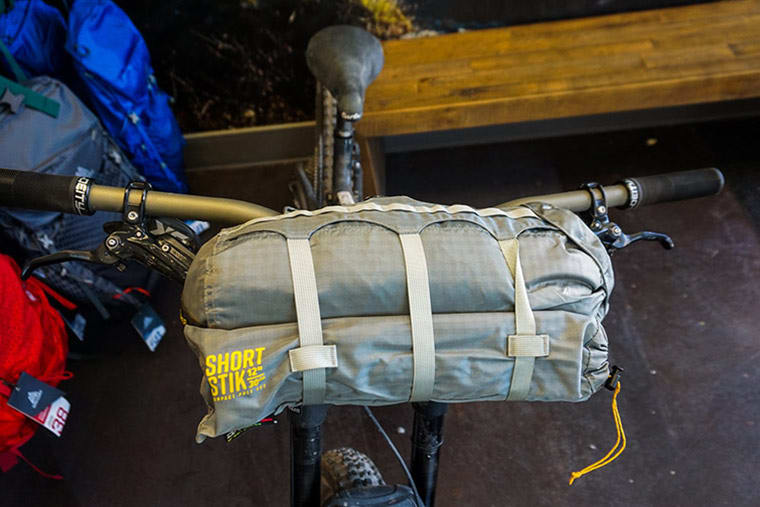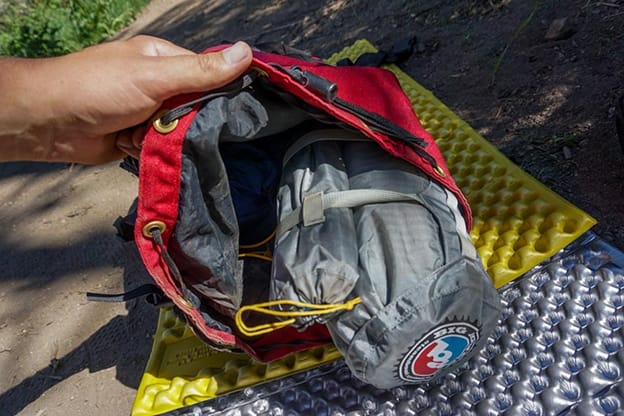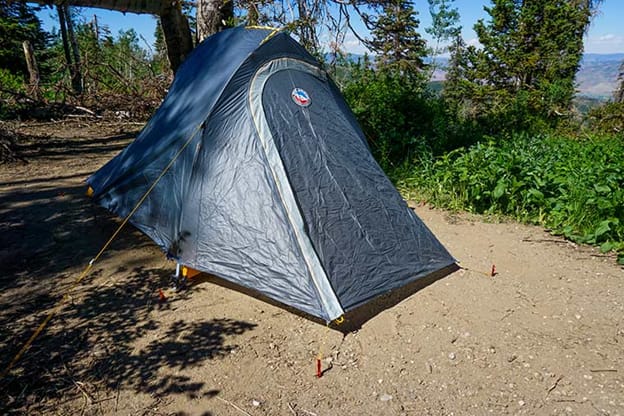 footprint would certainly add ruggedness when setting up camp in rocky soil.
While some may prefer a side-entry design, the Fly Creek's single door at the head made for easy access. It's also part of the reason this tent is so lightweight. It's worth noting, however, that with two people, the sleeper on the left side of the tent will have better access to the zippers. That's not an issue if you're sleeping solo in this tent, and given that any two person tent will be snug with two sleepers, solo camping will be the preferred option for most people. However, if you're sharing the space with a partner, be prepared for the sleeper on the right to potentially bump into their tentmate's head if they need to unzip the door in the middle of the night.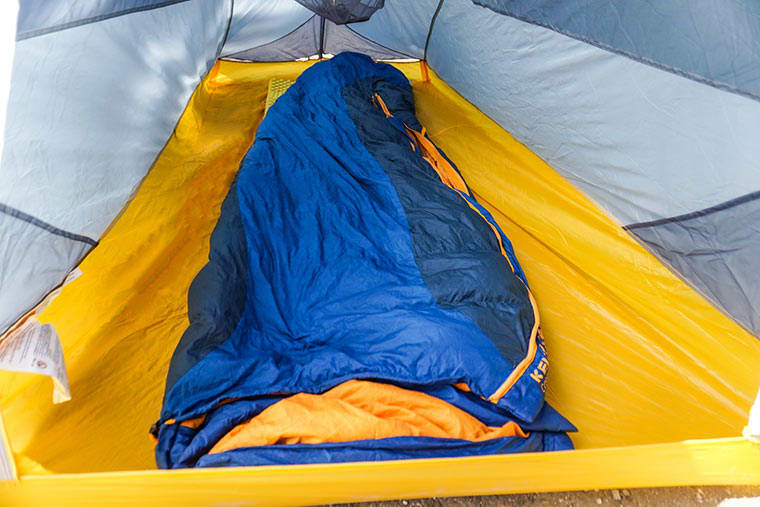 What We Like
Shortstik Poles
Hands down, this is my favorite feature of this tent, and you need not be a bikepacker to appreciate the value. In fact, with the shorter poleset, this tent packs down to roughly the size of a 48 oz Nalgene bottle. That gives you plenty of carry options, especially if you're using a small overnight pack. It's absolutely worth buying one of BA's bikepacking tents for this feature alone.
Generous Headroom
The architecture of this tent means that you have a ton of headroom and that's easy to appreciate, especially if you have to hunker down and wait out a storm. This is a product of the tent pole structure, which lifts the tent fabric, giving you 42" of clearance without adding significant weight.
Stash Pockets
Big Agnes added a handful of pockets and attachment points to this bikepacking tent that the other Fly Creeks don't have. Whether you need to air out sweaty clothing or organize small items like your headlamp and phone, these pockets are a useful value add.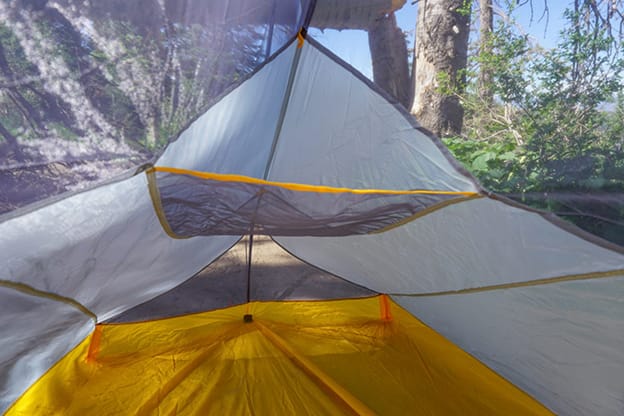 What Could Be Improved
Footprint Sold Separately

Big Agnes makes an excellent footprint for this tent that extends into the vestibule, giving you a clean and dry place to change without pulling dirty shoes into your tent. It also protects the tent floor against cuts and punctures, which are always a concern with a lightweight tent. It's hard to fault BA for selling the footprint separately, but odds are that you'll want to add one to your shopping list, especially if you're going to be using this tent frequently.
Asymmetric Door

This is arguably a nitpick, but as mentioned previously, trying to get out of the tent in the middle of the night without disturbing your partner is much more difficult if you're sleeping on the right side of the tent. If that's a concern, the Copper Spur HV UL2 Bikepack gives you the benefit of Shortstik poles, along with individual doors for both sleepers.
No Solution Dye Option (Yet)

Solution dye technology, a sustainable fabric dyeing process, is making its way into BA's tent lineup and that's a very good thing. The main benefit is that it significantly reduces the environmental impact of tent production, and it doesn't hurt that it produces superior colorfastness as well. It wouldn't stop me from buying a Fly Creek, but I'm looking forward to the day when solution dye technology is ubiquitous throughout the Big Agnes lineup.
What Do We Really Think?
The diminutive packed size and additional in-tent storage have me questioning why you'd want to buy the regular version of this tent, even if bikepacking isn't part of the plan. Weight-conscious backpackers could shave a bit of weight by swapping in a lighter stuff sack, and the minimal weight penalty over the one-person variety (roughly 4oz, if you're wondering) makes it easy to argue that this is the smartest choice in the entire Fly Creek family.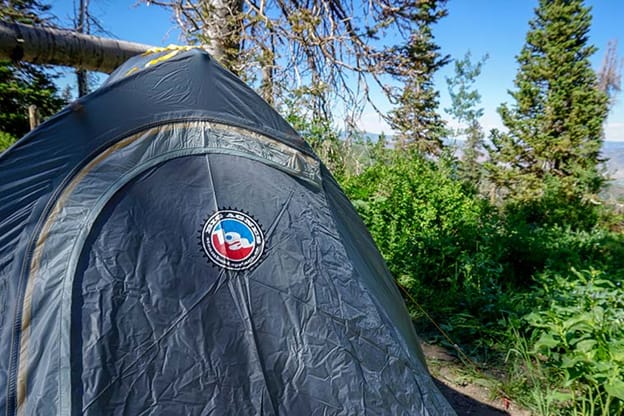 About the Author
Garson Fields

Raised in New England, before transplanting to Utah to chase the freedom of the West, Garson is a mountain bike coach, sometimes racer, seasoned camper, and trusted authority on premium outdoor gear. He grew up skiing at Mad River Glen, later switching to snowboarding, and still has a soft spot for East Coast hardpack. He's turned that passion and experience into a career in outdoor industry marketing, where he focuses on educating and empowering consumers of all experience levels.