Posted by Dan Goodman on 1st Aug 2023
There are few climbing shoes as iconic, versatile, and well-loved as La Sportiva's aptly named Solution. Anyone climbing in these shoes can attest to their precision and edging power. In short, they're an absolute juggernaut when it comes to tackling the toughest problems and routes.
There's no denying the commercial success of the Solution either. They've been around since 2007 and have received more than their fair share of awards. And that's not to mention that some of the biggest names in climbing, like Adam Ondra and Stefano Ghisolfi, continue to reach for the Solution as their go-to shoe to send the hardest climbs in the world.
With a resume like that, it begs the question, does the Solution live up to the hype? Let's take a deeper dive.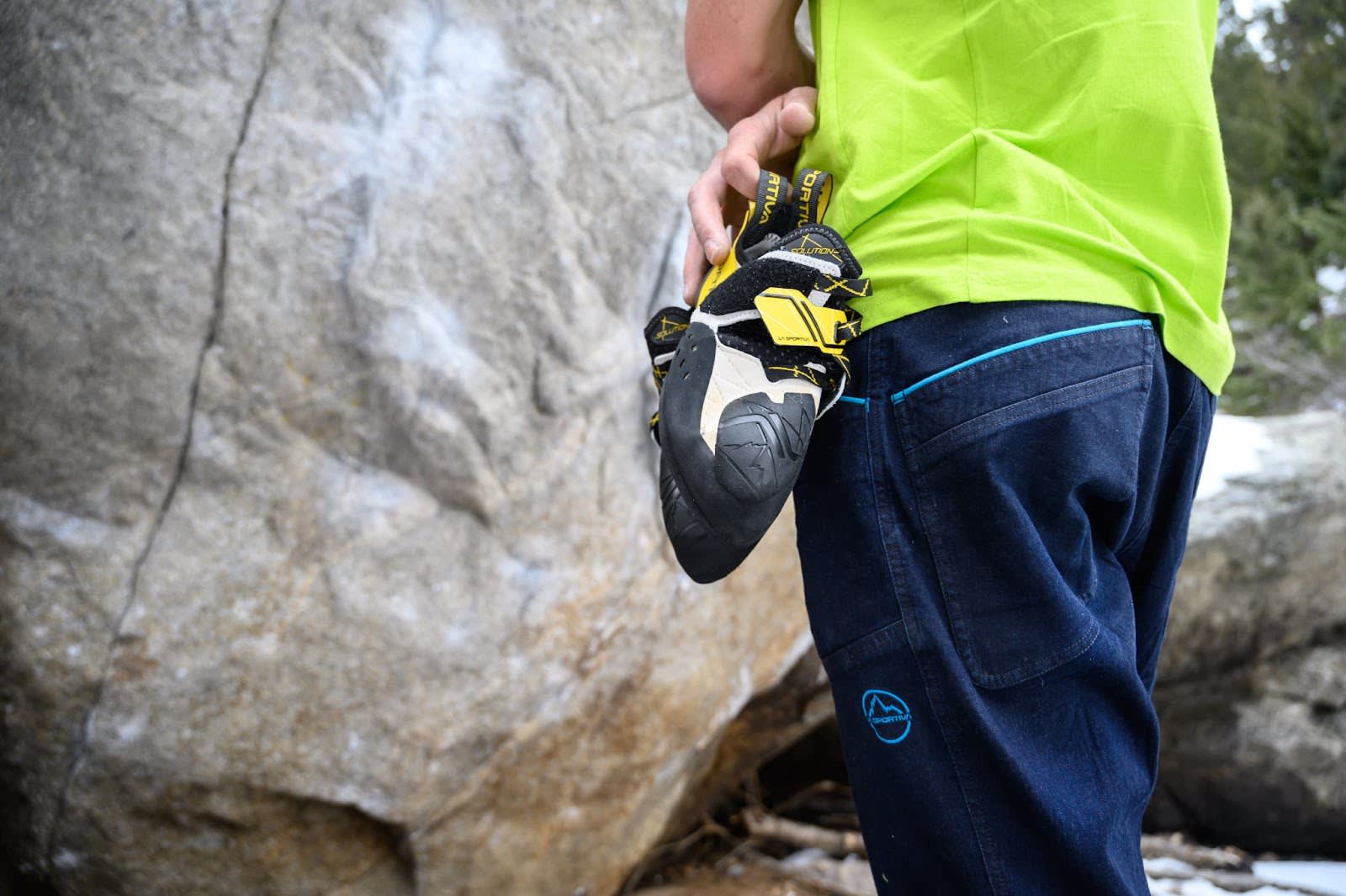 Features
P3 Platform
Many La Sportiva climbing shoes feature their Permanent Power Platform. This unique randing system starts under your toes and wraps around the back of the heel, focusing power toward the front of the shoe while maintaining a supportive, downturned shape. In short, the P3 platform keeps you performing at a higher level for longer, and is one of the things that makes La Sportiva such a well-known and loved climbing shoe brand.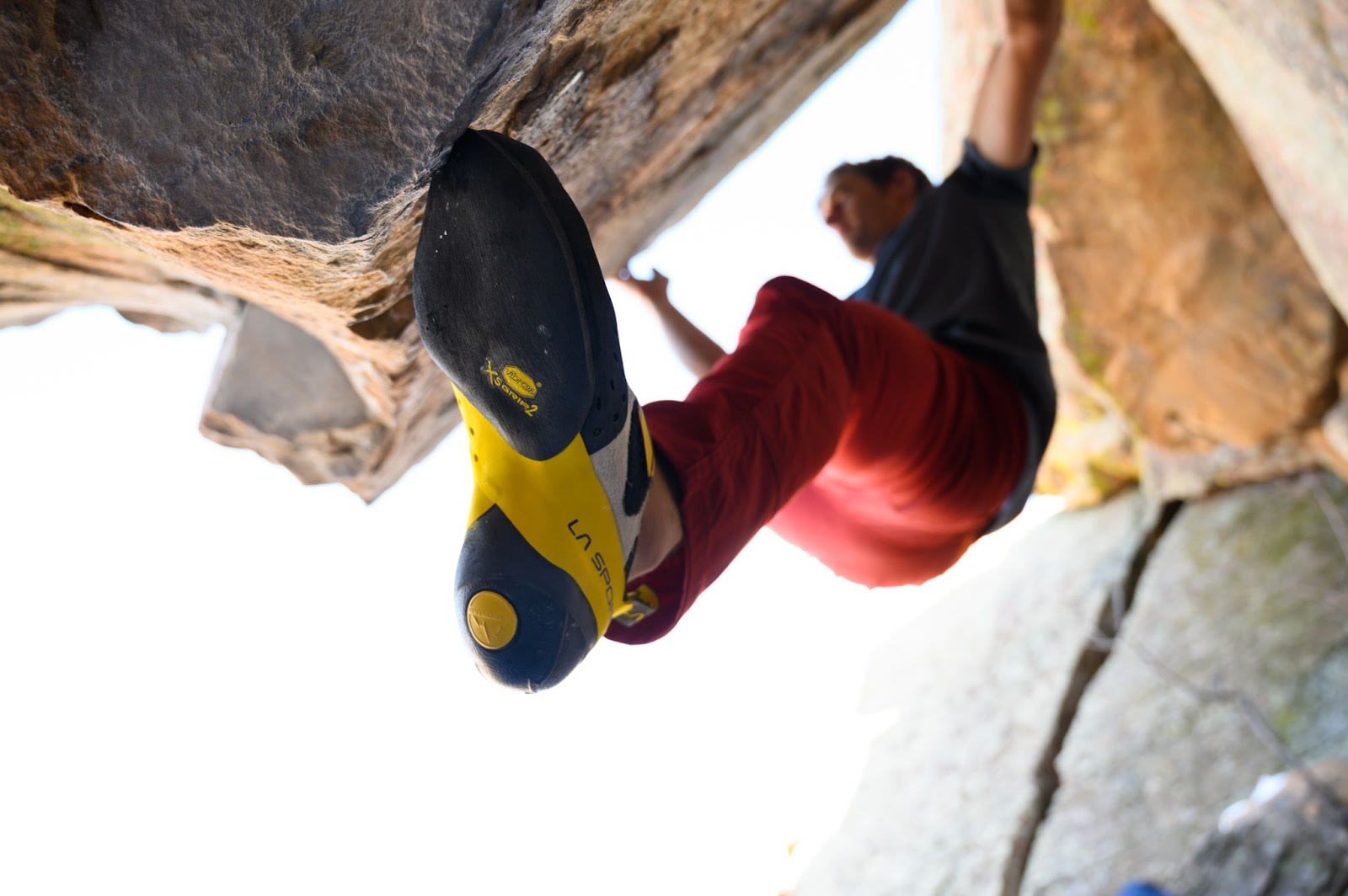 Lock Harness System
With a built-in harness that wraps your foot, both increasing power and reducing dead space, this shoe gives you a near-perfect fit every time. This helps with precision and gives a secure fit while edging, heel hooking, and everything in between.
Generous Toe Patch
With a large toe patch on the top of the shoe, this shoe lets you take advantage of every toe hook and heel-toe cam you come across. And, as with many La Sportiva climbing shoes, they made sure to have the toe patch rubber run far enough up the shoe to keep it from getting peeled back the first time you use it.
Vibram XS Grip 2 Rubber
Although the design of the Solution leans towards a stiffer shoe, with a relatively stiff midsole and heel cup, La Sportiva opted for Vibram XS Grip 2 rubber to add a touch of sensitivity to the shoe. While that doesn't give it the super soft feel of the Theory or the Cobra, it does help to give you a feel for what's going on underfoot.

On The Rock
No surprises here. The Solution is an absolute machine on stone. Ideal for bouldering and single-pitch sport climbing, it handles limestone cave crawling as easily as granite compression problems. It starts stiff and stays that way from its first pitch to its hundredth, making us think there really is something to this P3 Platform.
Speaking of stiffness, the Solution is certainly a step up when compared to softer, more sensitive models like the Skwama or Futura. But, at the same time, it avoids the ultra-stiff feel of the Miura VS. The result is a shoe that is stiff enough to eliminate foot fatigue when standing on small edges while offering just enough flexibility to keep you from skating a foot on polished holds.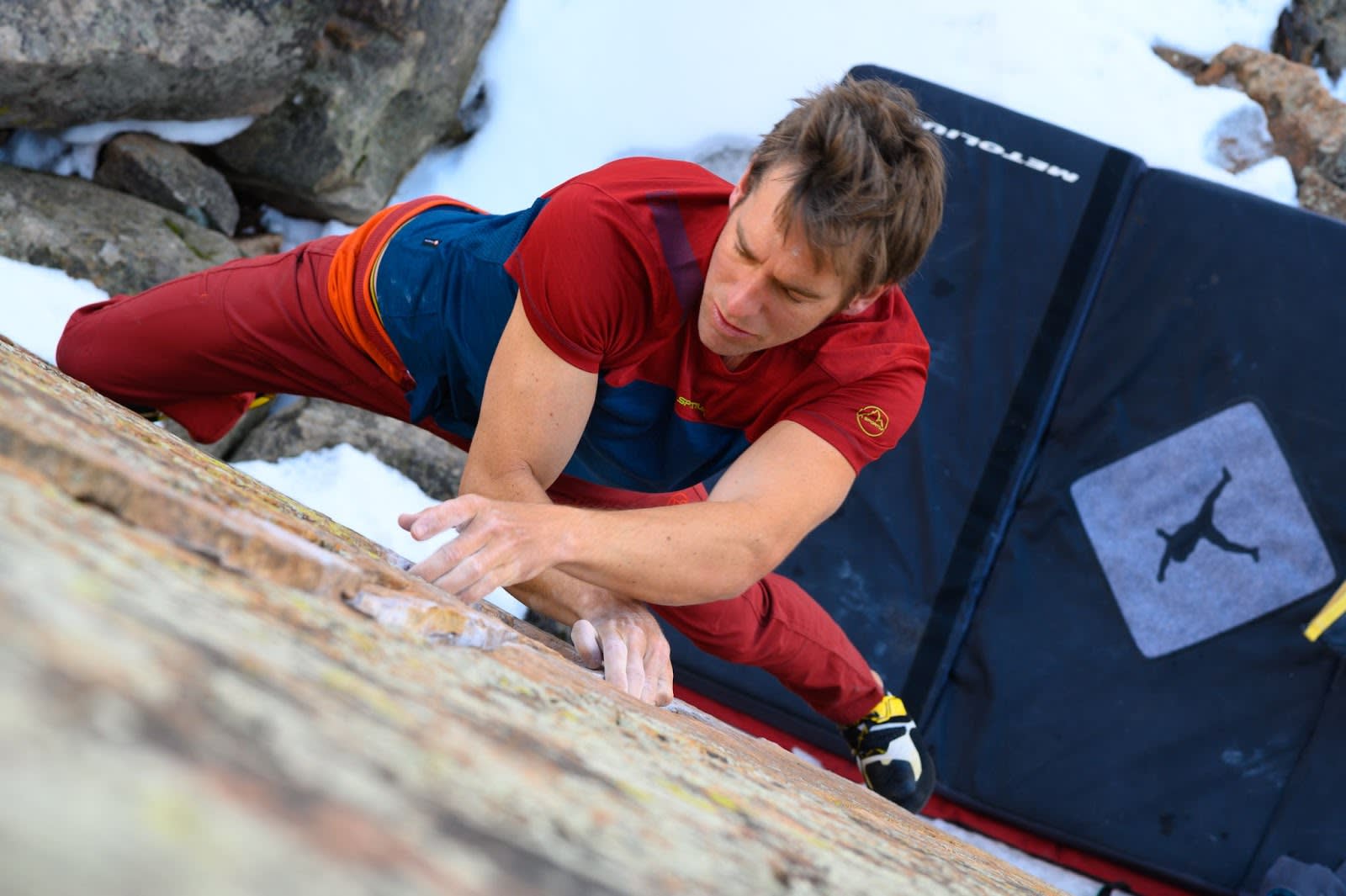 Although it may have a place in a haul bag for some big wall crux pitches, we'd generally suggest keeping this shoe around for mostly single-pitch climbing and bouldering. It's generally more downturned and aggressive than most folks are looking for in a multi-pitch boot. Other than that, this shoe seems to be a jack of all trades. You'll see folks sending hard in the Solution on every rock type, wall angle, and across disciplines.
Which brings us to where the Solution excels. Although the Solution could be replaced in your shoe rotation, in many cases, there's no substitute when it comes to heel-toe cams or granite heel hooks. The stiffness of the 3D molded heel cup brings a lot to the table, providing reliable stick where other shoes fail. In fact, we tried multiple granite boulder problems in various shoes and found that the difference between flailing and an immediate send just came down to just putting on the Solution.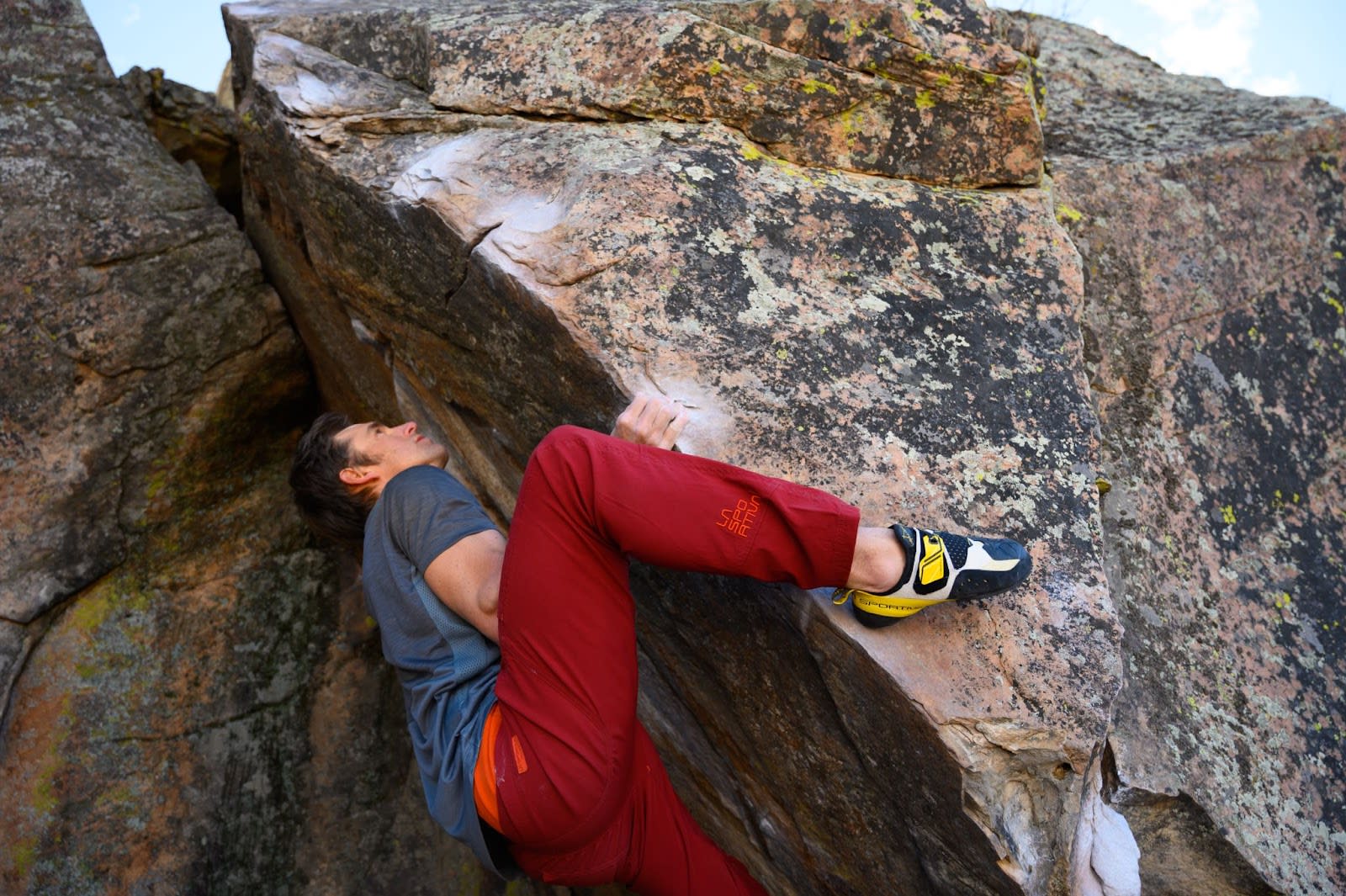 There are climbs where you may be looking for a more sensitive shoe and the Solution isn't particularly oriented towards long stints of crack climbing. But otherwise, any problem or route is fair game. From crimp-fest boulders in Joe's Valley to the slick stone found on many American Fork routes to the technical problems of Little Cottonwood Canyon, we couldn't find many good reasons not to wear them.

What We Like
Heel Cup - Although this is a topic of much debate in many climbing circles, there's no denying that the heel cup offers something special if it fits your heel well. It's plenty stiff, which can make precise heel placements a little tricky. But it also has an uncanny ability to bite into the smallest chips, divots, and crystals, meaning you'll get plenty of stick even if your heel placement is off by a centimeter or two.
Edging Capabilities - There's a reason boulderers love this shoe. It allows you to stand on micro edges all day without dealing with the foot pain and fatigue that usually comes with it. With the P3 rand driving power to your big toe, and super sticky Vibram rubber up front, this shoe opens up a new world of foothold possibilities.
Lock Harness - This shoe hugs your foot in all the right places. The lock harness gives you a picture-perfect fit that's free of dead space or bunched material. This feature delivers a secure feel that you can trust to perform well on everything from heel-toe cams in steep caves to micro-edges on dead vert walls.
What Could Be Improved
Fast-Lacing System - Though La Sportiva has clearly done some work to make the current lacing system more durable than previous iterations, it still isn't quite where we'd like it to be. While the system design itself is great, the strap frays and breaks more easily than we'd expect, and occasionally well before the shoe has reached the end of its life.

Sizing La Sportiva Climbing Shoes
Sizing climbing shoes is always a matter of individual preference, and La Sportiva climbing shoes are no different. La Sportiva suggests that sizing down two to three sizes from your street shoe is appropriate.
For reference, our reviewer wears the following shoe sizes:
Street Shoe - 44 (U.S. Men's 11)
SCARPA Mago - 42.5
SCARPA Instinct Lace - 42
La Sportiva Solution - 41.5
La Sportiva Skwama - 41
La Sportiva TC Pro - 41.5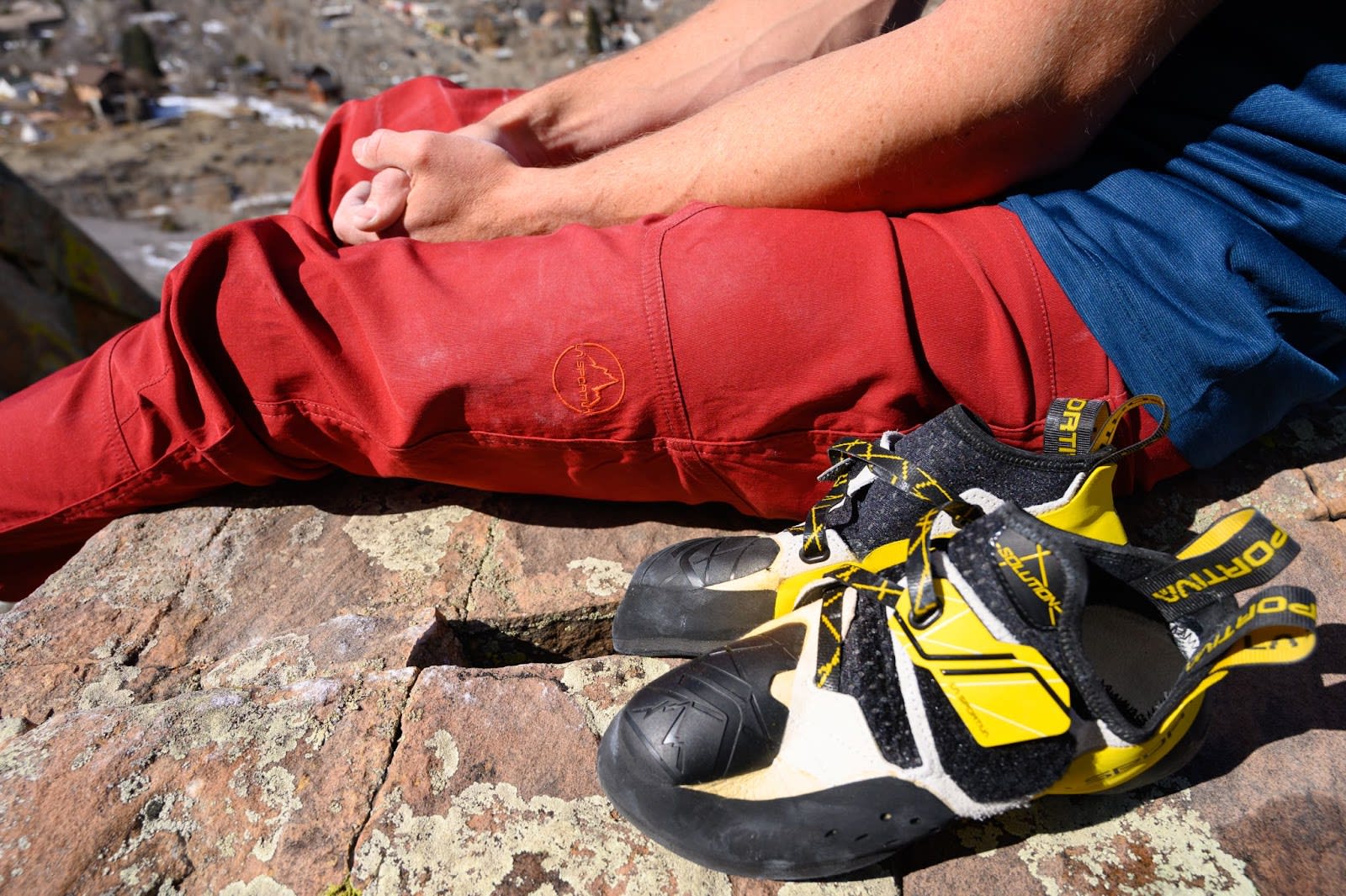 Conclusion
There are a lot of reasons to love this shoe and not a lot of good reasons to dislike it. It's stiff where it needs to be, without making you feel like you're wearing the Miura VS, and it can keep up with the best on any angle, from the slabs to the steeps. And though La Sportiva could make some small adjustments to future generations of the shoe, there's not all that much room for improvement in this modern classic.
About the Author
Dan Goodman
Most of the year, Dan can be found chasing the best climbing conditions he can get his hands on, and in the dead of winter, he'll settle for chasing powder on his snowboard. He's constantly seeking out better gear, testing new climbing shoes, backpacks, sleeping bags, and more to make his life in the outdoors a bit more comfortable. When he's not outside putting his gear to good use, he's writing about the products that he knows best.