Posted by Rachel Ross on 1st Dec 2022
While a solid headlamp is a necessity for any outdoor enthusiast, they're not all created equal. Between overly burly headbands, unimpressive light output, and incompatibility with certain helmets, there are some options that you're better off skipping. Lucky for you adventurers, Petzl is one step ahead in the headlamp game, whether you're looking for a minimalist light like the Bindi for long night runs, or the Tactikka+ for your house projects or glamping outings.
But today's focus is the IKO CORE, made for those who desire a solid battery life, dual-battery options, and a lightweight band that fits snugly on your head. Noted to be a favorite among runners in particular, this headlamp serves up a capable amount of lumens, impressive battery life, and an ultra-comfortable design that'll make you forget you're even wearing it.
1

Features
Adjustable Design
This headlamp puts the "gear" in headgear. The wrap-around style band is much more comfortable than it looks, using a flexible and thin material. The elastic cord that's threaded through the back half of the band, functions similarly to the turn dial of a helmet, making micro-adjustments slightly more intuitive for mountain-goers. The battery pack itself is also adjustable, maximizing comfort by pivoting on the band according to the angle of your head.

Brightness
All this adjustability ultimately comes down to helping you light your way, thanks to a small headlight up front. The light has three brightness modes, categorized by power:
Max Power - 500 lumens

Standard Power - 100 lumens

Max Burn Time - 6 lumens
Max power is what you might call "blinding," with an illuminating distance of 100 meters and a max burn time of 2.5 hours. It's so bright in fact, any deer you might encounter might freeze, thinking you're a vehicle.

Battery life
The battery that comes with this headlamp is Petzl's 1250 mAh CORE rechargeable battery. It takes 3 hours to charge from dead, but the headlamp is also compatible with 3 AAA standard batteries. Unfortunately, switching the battery source to AAA also has the side-effect of knocking the max lumen power down to 350. For those of us who've used non-rechargeable headlamps in the past, it's already quite common to keep an extra set of batteries in our packs. And, at the "standard" lumen amount of brightness (350), this headlamp can keep you going through the whole night.
Better yet, thanks to the lock mode (engaged by holding down the power button for six seconds), you can be sure that the headlamp won't turn on while being jostled around in your daypack, leaving you with a dead headlamp when you actually need it.

Simplicity
With a single button for on/off, or locking the light, the IKO CORE is a no-frills headlamp that puts the business in the back and the party in the front. Keeping the battery behind you and the light in reach offers a very balanced feel on your head. Adjustments are quick and easy, allowing you to accommodate a wide range of headwear without any fuss.
On The Run
Although it appears "minimalist" in nature, this headlamp is actually very comfortable, even after it's been on your head for a few hours. The band itself is contoured to match the shape of the head, and given that the adjustability is a simple pull-tab in the back, you can easily snug up the headlamp without receiving an indented forehead later. And while any headlamp is by nature hands-free, this one offers extra stability that keeps the illumination pointed where you're looking, while other headlamps have a tendency to bounce when you start running fast.
Up front, the light is small and unobtrusive, while the battery in back helps the whole setup feel lighter on your head than traditional headlamps. The band around your head is meant to wick away moisture and won't absorb sweat like so many other cotton headbands.

What We Like
Slim Design: Both for packing and running purposes, the sleek design of this headlamp passes the test of "least in the way" while you're on the way.
Battery Life: With multiple power-saving options and with a max burn time of 2.5 hours in max power mode, you might find yourself saying "I haven't had to charge this thing in a while…" That, plus the extra fail-safe of being able to swap out the CORE battery for AAA batteries means that the likelihood of your world going dark is slim to none.
Packability: Foldable, bendable, and portable, the IKO CORE is quite an adaptable headlamp. Easily stashable in the top of a backpack or even a large pocket, it packs down to a size that won't give you pause while prepping.
Lantern Option: The included SHELL LT pouch is a white, semi-transparent pouch turns your light into a lantern. This makes the headlamp and pouch a multi-purpose and multi-use combo, perfect for evening camp scenes without any extra light needed.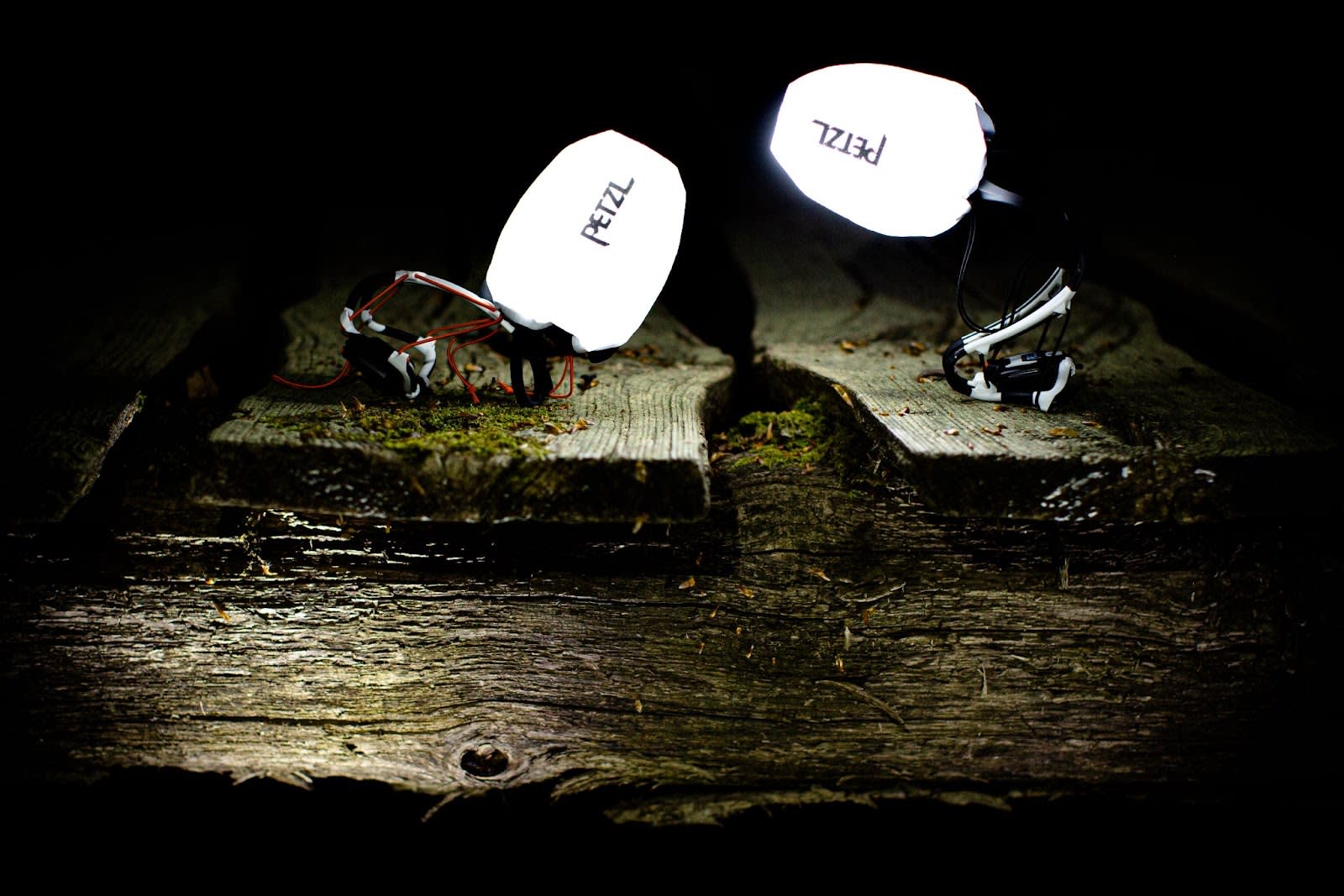 What Could Be Improved
Packability: While the bendability is great for fitting this light into smaller spaces, it's not as simple as we wish, and it takes some finagling to get this light stuffed into the included SHELL LT pouch.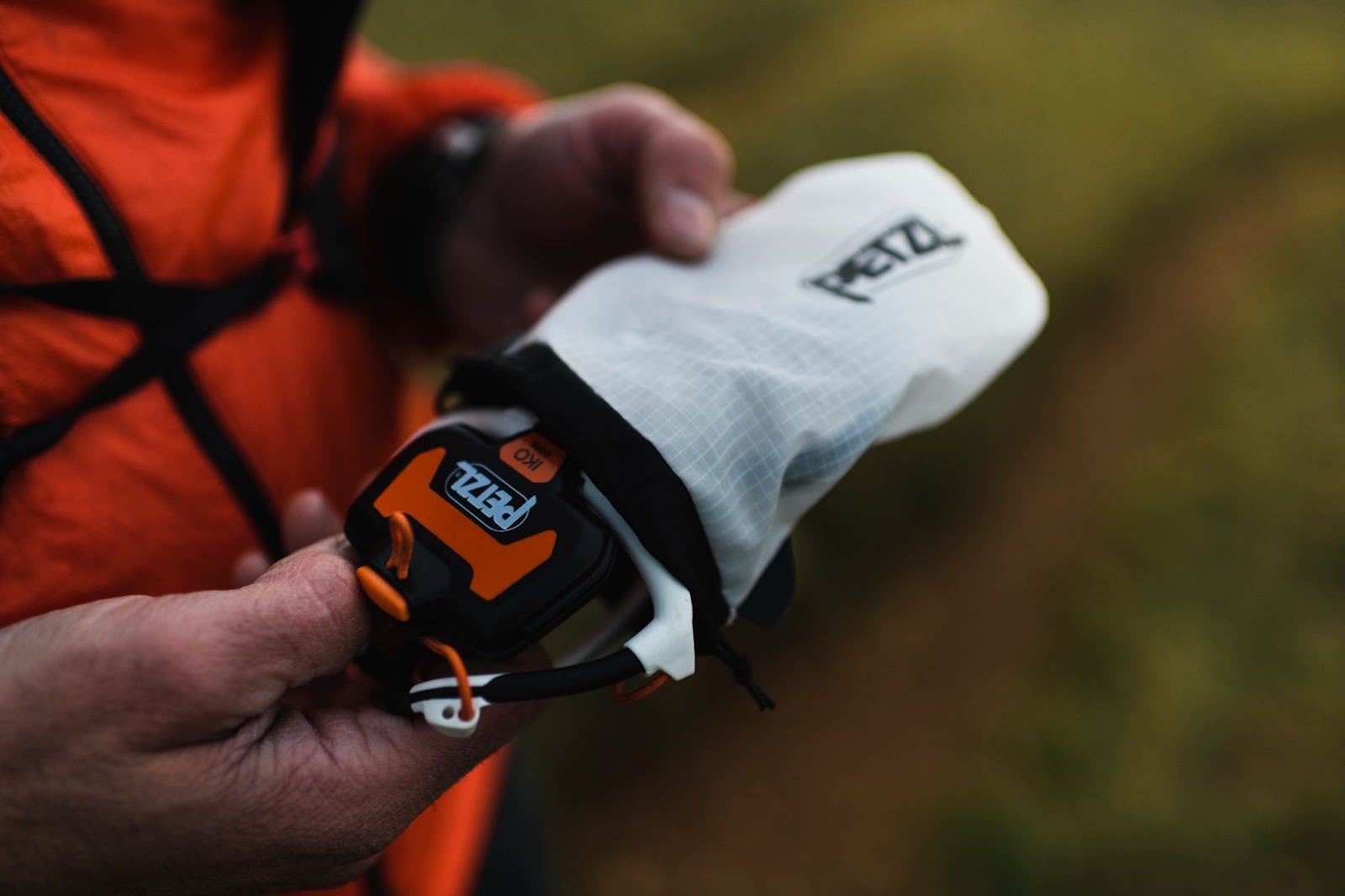 Durability: While we haven't done any destructive testing on this, the headlamp's thin plastic casing makes us wonder how it will tolerate abuse. It's held up well enough out of the packaging, but we wonder how it will hold up after a couple of seasons bouncing around with heavy climbing gear in a pack.
Blinking Option: Many runners would appreciate an extra option for visibility purposes. Other headlamps offer a strobe setting, and considering the running-focused design, having that option to remain safe on the road would be a definite value-add.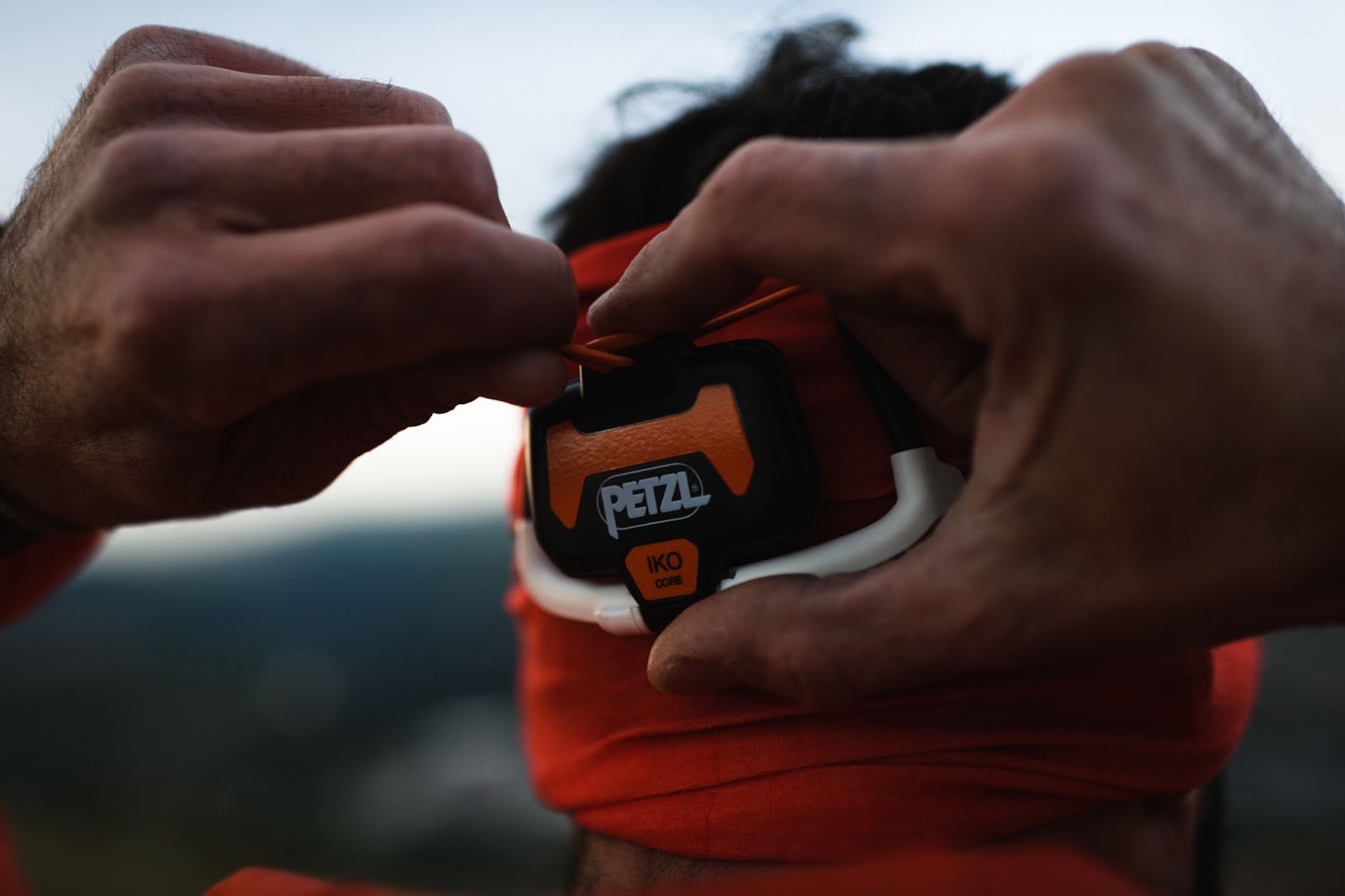 In Conclusion
Slim, agile, lightweight, and bright, this lamp can huff it up a ridge traverse in the early morning or ski down that last run with you. 500 lumens of output is enough to really make a difference when the sun goes down, and the rechargeable battery pack with the option to switch to AAA batteries helps ensure you always have a light when you need it. It's a unique and practical piece of equipment for those looking to embrace adventure outside of the sun's working hours, and if it fits your needs, we recommend it highly.