Posted by Dan Goodman on 7th Mar 2023
Few climbing shoe families run as deep as the SCARPA's Instinct line. No matter your preferred style or discipline, there's an Instinct for that.
And climbers looking for a supportive shoe that excels in dead-vertical terrain need look no further than the Instinct Lace.
Touted as the stiffest shoe in the line, the Instinct is much more specialized than its more well-known cousin, the Instinct VS. It benefits from a longer outsole made of sturdy Vibram XS Edge rubber that doesn't bend, break, or fold under pressure.
But we wanted to know if the Instinct Lace was versatile enough to enjoy across the board or if it only excels on dead-vertical climbs.
Features
Bi-Tension System
In contrast to most standard rands, this system doesn't go around the heel. Instead, it wraps the sides of the shoe, starting underneath the toes. This drives power to the front edge without jamming your toes into the front. And since the rand doesn't run under the center of your foot, you also get a more sensitive feel on the rock.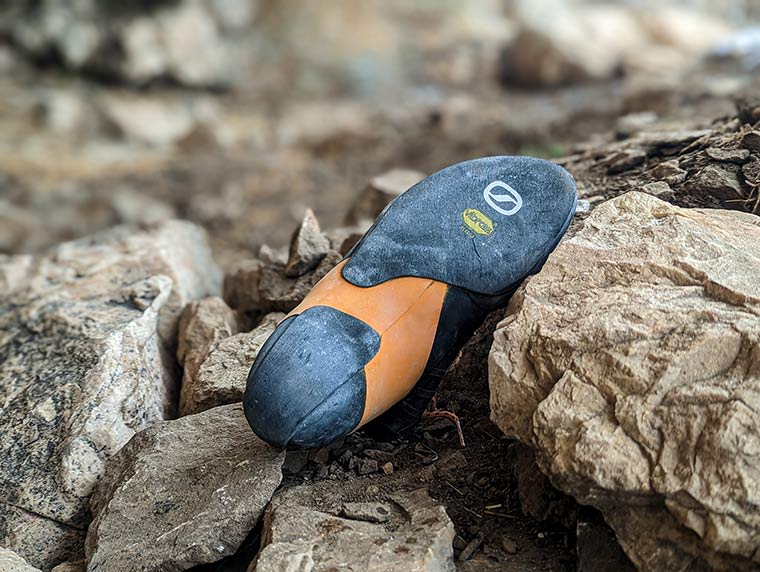 Vibram XS Edge Rubber
Anyone who has felt their shoe fold under them while standing on a hold can appreciate the need for stiff rubber. SCARPA included Vibram's stiffest rubber on the outsole to give climber's the utmost confidence while standing on tiny edges.
Two-Thirds-Length Outsole
The Instinct Lace sports an extended-length outsole, which is one of the primary distinctions between this shoe and the Instinct VS. The longer outsole makes it easy to stand on small holds for extended periods, reducing calf and foot fatigue on long, demanding leads.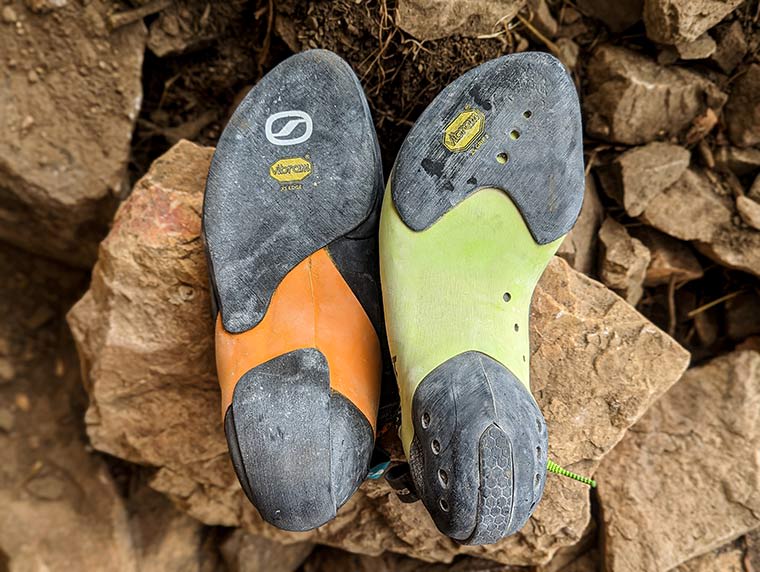 On The Rock
We took the Instinct out bouldering and sport climbing, and it climbs just as promised. Sturdy and supportive, climbing in this shoe made it easy to forget that 40-meter limestone pitches used to result in cramped calves and bruised toes. It's both comfortable and reliable for everything from slab moves to gently overhanging crimp fests.
We love it for places like the Grail and the Wailing Wall, which provide an endless supply of half-pad crimps that are typically 1-2 inches wide. And though it excels on small holds, letting you stand on small edges for what feels like forever, it also lacks a certain sensitivity. It's extremely difficult to feel holds under your feet, increasing the chance of a misplaced foot leading to an unexpected fall.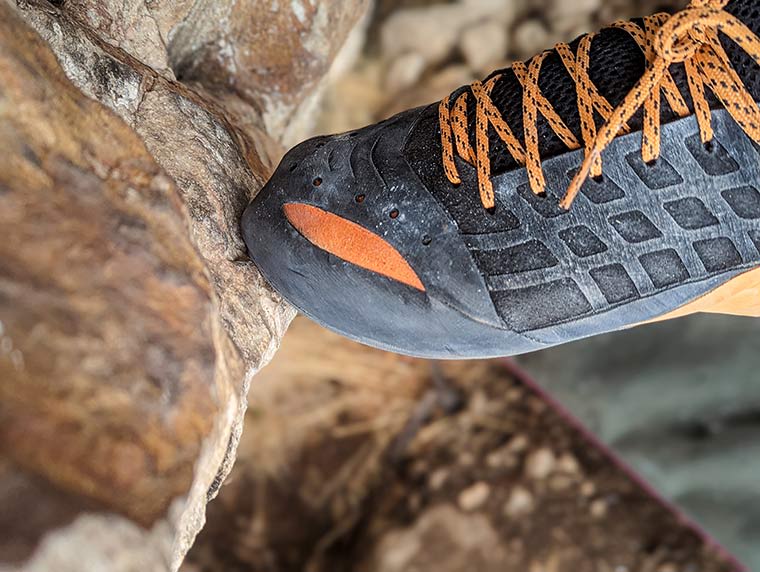 Although SCARPA claims to have given this shoe a chiseled, low-profile toe box, it still struggles to work its way into thin cracks and tight pockets. It does marginally better in these situations than the Mago, but only slightly. And as a shoe that many would hope to use for high-level trad climbing, we can't help but wonder if a lower-profile toe might be possible to help with thin cracks.
For all that, the Instinct is a solid choice for those looking for a cross-disciplinary shoe. It climbs granite boulders as well as limestone cliffs with ease. With a supportive toe box and a reliable heel cup that lets you take advantage of even the smallest edges, there are plenty of reasons to love this design.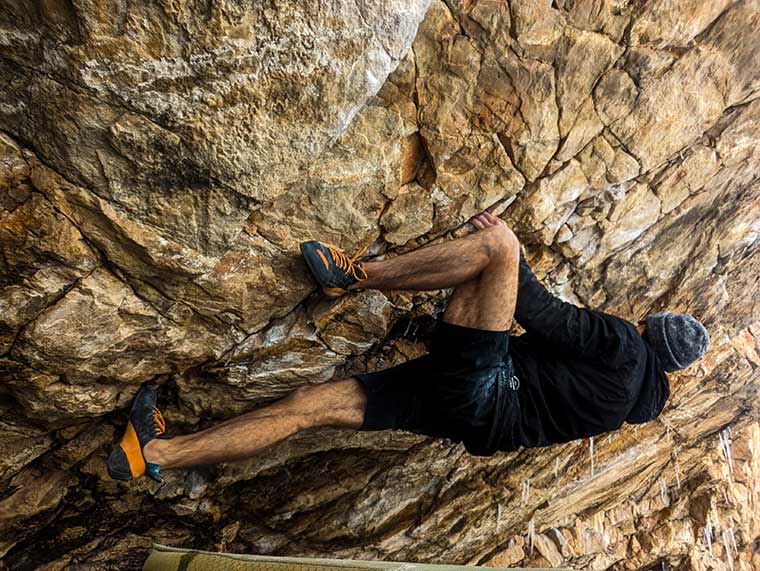 What We Like
Stiffness - SCARPA promises a stiff shoe, and it delivers. As long as you know what you're getting, you won't be disappointed.
Comfort - With a slightly wider toe box and a rand that pulls your toes away from the front of the shoe, the Instinct offers a remarkable level of comfort for long leads and extended gym sessions.
Heel Cup - Although it features the same PAF system found in many other SCARPA models, this shoe sports a more standard heel cup without the ultra-thin center I-beam we've seen in other models. It may come with some disadvantages, but it lets you crank hard on technical heel hooks without threatening to pull your shoe off of your foot.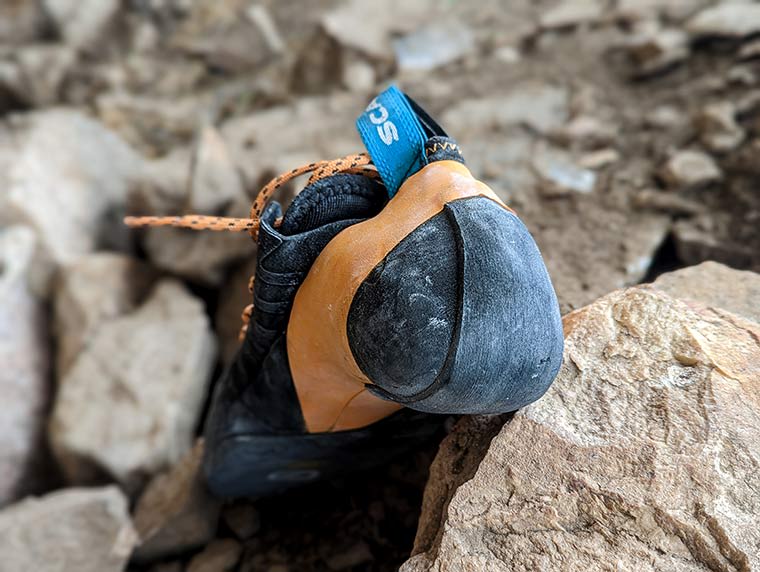 What Could Be Improved
Toe Profile - Even though SCARPA dropped the volume of the toe box, they could take it even further. It might result in a less comfortable fit, but most climbers are willing to sacrifice comfort for performance.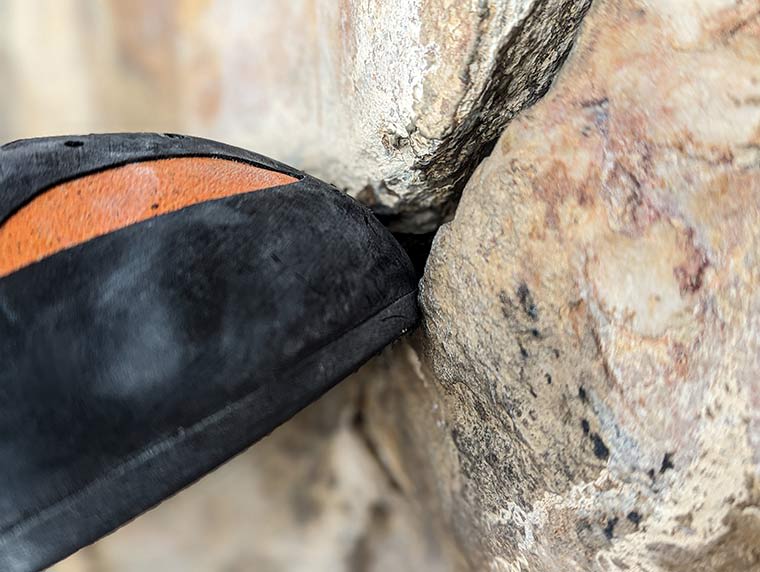 Sensitivity - Increasing the stiffness of a climbing shoe usually results in less sensitivity, and we recognize the give and take involved. Still, anything to make this model a touch more sensitive would make a world of difference to help you ensure you've got your foot in the right spot.

Sizing
If you know your size for any other Instinct models, stick to it. It might feel slightly smaller in the Instinct Lace, but that can be attributed to the stiffness of the shoe.
For reference, our reviewer wears the following shoe sizes:
Street Shoe - U.S. Men's 11 or EU 44
SCARPA Mago - Size 42.5
SCARPA Instinct Lace - Size 42
La Sportiva Solution - Size 41.5
La Sportiva Skwama - Size 41
Conclusion
Testing this shoe taught us one thing: when SCARPA promises, they deliver. In this case, they delivered an uncompromising shoe that can stand on the tiniest edges without batting an eye. We also learned it lacks sensitivity, making it hard to find minuscule holds.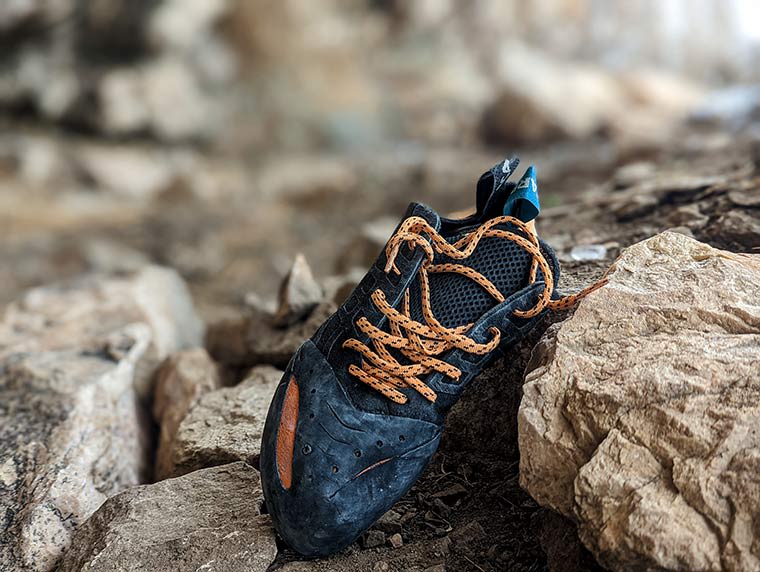 This shoe is for climbers looking for a specialized design that works extremely well for certain types of climbing. For anyone who wants a "quiver killer" we would recommend something softer, like the Instinct VS.
For all that, the Instinct Lace comes exactly as promised, and it promises a lot. From technical boulders to gently overhanging cliff bands and even slabs, you can trust your Instinct from tie-in to chains.
About the Author
Dan Goodman
Most of the year, Dan can be found chasing the best climbing conditions he can get his hands on, and in the dead of winter, he'll settle for chasing powder on his snowboard. He's constantly seeking out better gear, testing new climbing shoes, backpacks, sleeping bags, and more to make his life in the outdoors a bit more comfortable. When he's not outside putting his gear to good use, he's writing about the products that he knows best.