Posted by Garson Fields on 28th Jun 2021
Any outdoorsy parent will tell you that it's never too early to foster your child's love of nature. Whether you're trying to raise the next prodigy or you simply want your kiddo to develop a healthy appreciation for the wonders of the great outdoors, getting them outside is the first step in a lifelong process of adventure. And that's a lot harder if you don't have a way to carry them safely when you hit the trail.
The Deuter Kid Comfort child carrier series has become synonymous with active outdoor-focused families, and with three levels to choose from, picking the best Kid Comfort pack is as simple as defining your priorities.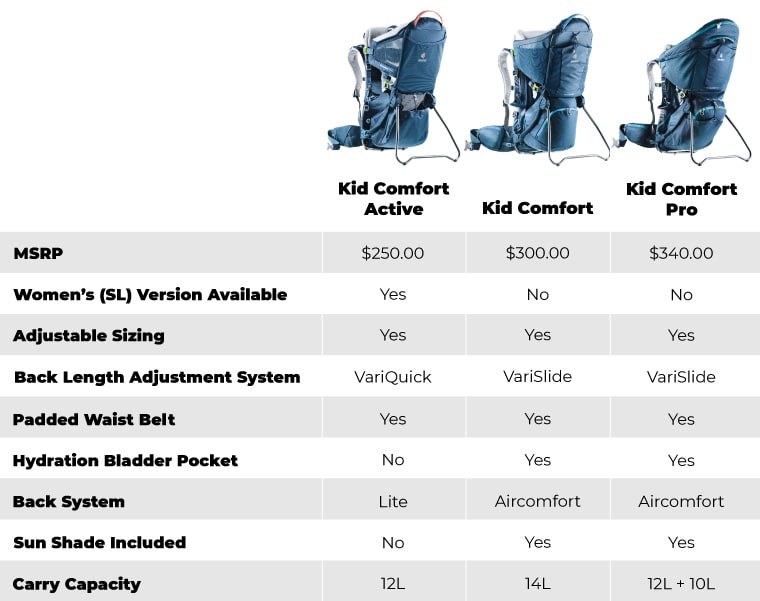 Kid Comfort Active - The Minimalist's Choice
Prefer fast and light? Need a women's-specific fit option? Check out the Kid Comfort Active.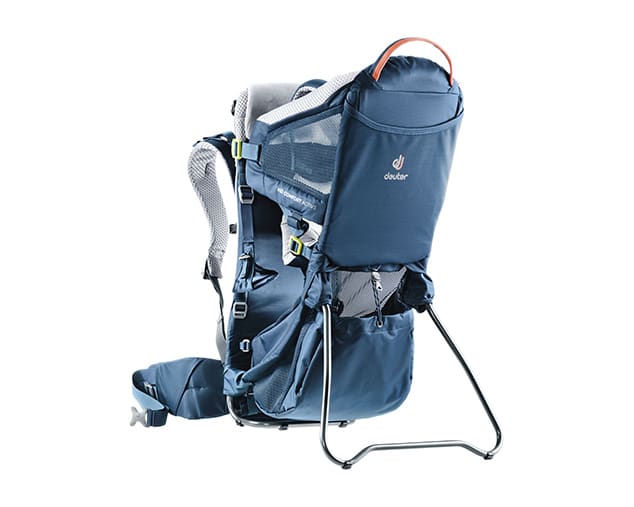 If you value saving weight and/or money, the Kid Comfort Active is an excellent choice. Not only will you save about a pound and a quarter off the pack, you'll also save $50 as compared to the standard Kid Comfort. Better yet, it's also available in a female-optimized version, the Kid Comfort Active SL, which gives you a shorter back length and straps that are tailored for narrower shoulders.
Not only is the SL the obvious choice for petite moms, it's also a great option for dads of a more compact build. But keep in mind that the non-SL Kid Comforts are designed to accommodate individuals across a wide range of sizes and body types, so unless you're truly petite, parents need not worry about choosing the standard option.
So what does the Active give up? First, it gets Deuter's Lite back system, which is very comfortable, but has slightly less padding than the Aircomfort system. It also gets the VariQuick back length adjustment system, which takes a bit more fiddling when swapping between parents. Furthermore, it forgoes the waist strap pockets and upper side pockets, instead giving you a stretch pocket at the back of the child carrier, and a non-zippered bucket-style pocket under the seat.
Although it doesn't include a sun roof, the Kid Comfort Active is compatible with the KC Sun Roof, giving you a cost effective way to add protection from sun and light rain for your little one.
Individuals of a smaller stature would be wise to choose this route, as would price-sensitive parents. On the other hand, if you want to maximize storage and organization, the other alternatives in the Kid Comfort line might be a better choice.
Kid Comfort - The Benchmark
Looking for the easy choice? Go with a standard Kid Comfort.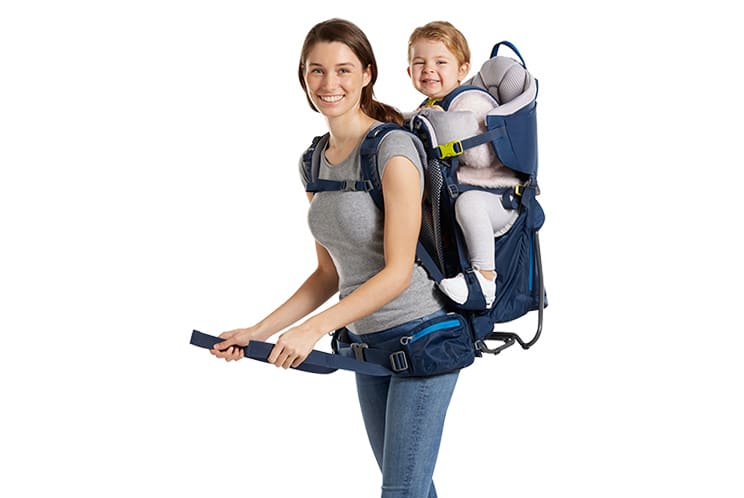 As the latest version of the pack that drove a revolution in outdoor child portage, the Kid Comfort is refined, comfortable, and adjustable enough to fit parents of almost any size. It's built on the same well-ventilated Aircomfort back system as the Pro, and it also shares the VariSlide adjustment system, which is Deuter's quickest way to adjust the back length, making it a cinch to swap the pack between parents on the fly.
In addition to the 14L zippered pocket under the child seat, the Kid Comfort boasts zippered pockets on both sides of the hip strap, as well as open-top stretch pockets on the upper portion of the pack for easy access to all your on-trail essentials. It also gets a zippered pocket for a 3L hydration bladder, which is helpful for big days on the trail.
Compared to the Pro, the standard Kid Comfort gets a smaller sun shade that doesn't have the same degree of side coverage. The child carrier back is also shorter, which could make a difference in comfort for children on the taller side of the recommended height range. Regardless, the standard Kid Comfort is the benchmark by which all other child carriers are measured.
Kid Comfort Pro - Maximum Capacity and Protection
Want a full-coverage sunshade and all the features? Opt for the Kid Comfort Pro.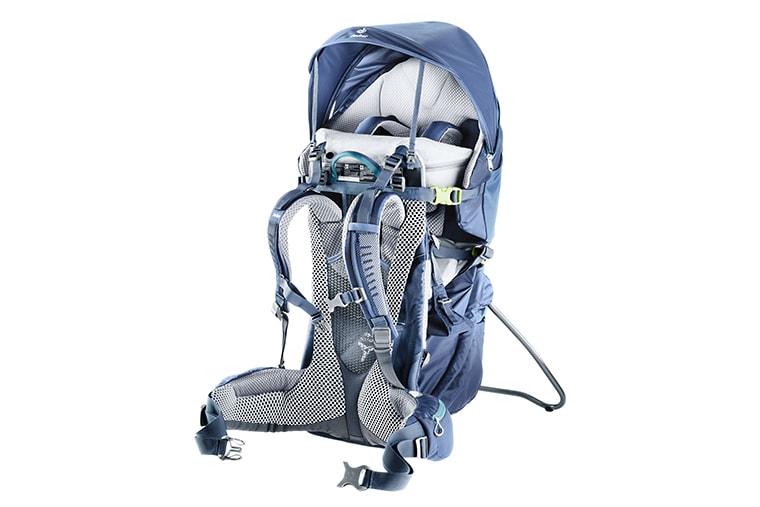 If you value storage, comfort, and all the bells and whistles, the Kid Comfort Pro is the child carrier you want. Sure, it weighs half a pound more than the standard Kid Comfort and will cost you an extra $40, but those drawbacks are nominal when you consider the features you're getting.
Like the standard version, the Kid Comfort Pro is built on Deuter's luxurious Aircomfort back system, and the VariSlide mechanism lets you adjust the back length in just a few seconds. It also gets the same zippered hip pockets and stretch side pockets at the top.
From your passenger's perspective, the biggest differentiator is the taller back, which cradles their head, especially if they're tall for their age. The main pocket is a bucket style, reminiscent of the Kid Comfort Active, rather than the Kid Comfort's zippered pocket, but there's a trick up its sleeve — it contains a compressible daypack that acts like a zippered pocket, which you can remove and carry separately, or attach to the straps as a chest pack. Like the standard Kid Comfort, the Pro has a dedicated pocket for a 3L hydration bladder. Plus, the integrated sunshade offers more side coverage than you'll get with the KC Sun Shade. In other words, you're certainly getting added value for the modest increase in weight and asking price.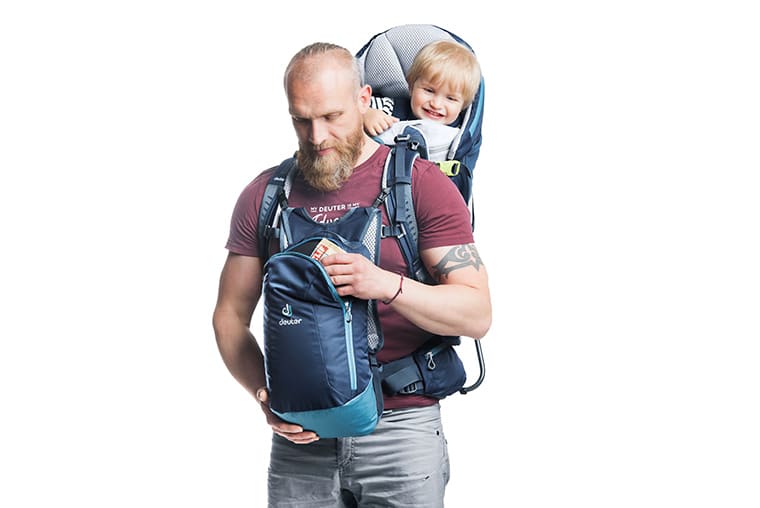 In Closing
There are plenty of reasons that the Kid Comfort series is regularly compared to luxury cars, and those reasons boil down to capability, durability, and comfort for parents and their passengers. So if you're after the best way to carry your kiddo, you've chosen wisely. Your little one's lifetime of adventure starts today, and you can rest assured that, with a Kid Comfort on your back, you'll be able to focus on what matters most — making memories.
About Campman
Campman is an outdoor retail store located in Salt Lake City, Utah, that specializes in gear and equipment for camping, skiing, backpacking, climbing, and everything in between. We understand that the difference between a bad memory and the adventure of a lifetime can come down to the gear you take with you when you head outdoors, and we want our customers to have the best experiences possible. When it comes to getting outside, we get it, and we'll get you the gear you need to get there.
Questions? Feel free to contact us by phone at (801) 999-8117 or by email at sales@campman.com.
About the Author
Garson Fields
Raised in New England, before transplanting to Utah to chase the freedom of the West, Garson is a mountain bike coach, sometimes racer, seasoned camper, and trusted authority on premium outdoor gear. He grew up skiing at Mad River Glen, later switching to snowboarding, and still has a soft spot for East Coast hardpack. He's turned that passion and experience into a career in outdoor industry marketing, where he focuses on educating and empowering consumers of all experience levels.