Posted by Dan Goodman on 19th May 2020
It's camping season again, and that means more days on the trail, more campfires, and of course, more nights spent on the ground. Cue the image of a previously happy camper waking up with a sore back and a stiff neck.
We aren't quite sure how people did it before, but all we know is that we're happy to have modern-day sleeping pad technology around to save us, and our backs, from a rough night's sleep.
Today, we're talking comfort, and no, not the "comfort" that ultralight sleeping pads claim to offer. We're talking about that "I'm replacing my mattress with this camping pad" kind of comfort, which is where the NEMO Roamer and the Exped MegaMat 10 sleeping pads enter the picture.

Comfort
It's hard to imagine having a bad night's sleep on either of these pads. Both feature a foam core that can be inflated to a custom level of firmness thanks to one-way, micro-adjustable valves. Once inflated, both the MegaMat and the Roamer put 4-inches between you and the ground, a welcome sight for those of us who like to sleep comfortably. But, I have been systematically napping on these while working from home, and I have a few comments.
Both pads are comfortable enough to sleep directly on top of, but the MegaMat is the clear winner in this case. The top material is incredibly soft to the touch, giving you the choice to use a sleeping bag, or simply pull a down blanket over you when you turn in for the night.
The MegaMat 10 also has a leg up in the cushion department. NEMO chose to use a process called dual-axis coring when making the Roamer. In plain English, that means that they hollowed out some of the internal foam to make it lighter and more packable. This also translates to a higher ratio of air to foam in the sleeping pad, making it noticeably less comfortable and also bouncier than the MegaMat.
With the Roamer in the bed of my truck, I could see how side sleepers might still be able to feel a firm surface underneath their hips, especially when moving around during the night. The extra foam inside the MegaMat 10 alleviates this issue, meaning you can sleep in any position on any surface and forget that you're not at home in bed.
Advantage: Exped MegaMat 10 Sleeping Pad
Versatility
When it comes to versatility, the NEMO Roamer shines above the MegaMat. The Roamer not only has a smaller packed size and lower weight than the MegaMat 10, but it also features toggles that let you combine two Roamers together to create a queen-sized mattress.
If you've ever tried to combine two sleeping pads before, you know that the space between the two pads quickly becomes an issue. NEMO added toggles to the sides of the Roamer that let you seamlessly combine two of them together for a 2-person sleeping pad that won't split apart in the middle of the night. These same toggles also work to keep the pad folded into thirds when you go to roll it away, meaning you won't end up trying to store a lop-sided pad in the stuff sack.
It should be said that the MegaMat does have a 2-person option as well, the Exped MegaMat Duo 10 Sleeping Pad. While it is a great sleeping pad for couples and is less expensive than buying two NEMO Roamers, it isn't as easy to store or transport.
Advantage: NEMO Roamer Sleeping Pad
Inflation
Manufacturers labeling their sleeping pads as self-inflating is the rough equivalent of a job applicant writing "detail-oriented" on their resume. It's nice in theory, but when it comes time to get down to brass tacks, it's easy to tell when someone is stretching the truth.
Both the MegaMat and the Roamer start to self-inflate when you pop open their one-way, inflation valves. With the MegaMat 10, the pad partially inflated itself to roughly 25% of a comfortable sleeping surface in about five minutes. I let it sit for half an hour, and after seeing no further progress, I decided to finish the job manually with the included pad pump. It wasn't tough by modern sleeping pad standards, but I had to do most of the work myself.
The NEMO Roamer, on the other hand, inflated itself almost fully within 5-minutes of opening the inflate valve. After giving it a few, quick breaths of air, it was inflated for perfect sleeping conditions. While it doesn't come with a pad pump like the MegaMat does, the Roamer actually feels like a self-inflating sleeping pad, making an additional pump unnecessary.
Advantage: NEMO Roamer Sleeping Pad

Warmth
You can imagine that with two sleeping pads rated to -30℉ or lower, it was tough to truly put them to the test in terms of warmth, so for this one, we'll have to go off of their stated temperature ratings.
The Exped MegaMat 10 is rated to an incredible -40℉. You likely won't be testing its ability to withstand temperatures that low, but a little extra warmth can't hurt.
Compared to the Roamer's temperature rating of only -30℉, the MegaMat is the winner in terms of warmth. Overall though, it's safe to say that for anyone camping anywhere that isn't Antarctica, either of these pads will be more than warm enough for your needs.
Advantage: Exped MegaMat 10 Sleeping Pad
Weight
Foam camping mattresses usually aren't on a backpackers' list of essential gear, but the Roamer does get dangerously close to a foam sleeping pad you might take on a short backpacking trip. It would put you much more in the glamping category than the fast and light category, but you wouldn't have any trouble sleeping in the backcountry.
Weight isn't just a consideration for backpackers, either. Lighter gear means fewer trips from the car to the campsite, and the faster you get camp set up, the faster you can get to the important things, like drinking beer and playing cornhole. With that in mind, the weight-conscious camper will appreciate the weight savings found in the NEMO Roamer, weighing in at just over five pounds.
Advantage: NEMO Roamer Sleeping Pad
Packed Size
Potentially the biggest difference between these two pads comes when comparing the packed sizes. NEMO found a niche for the Roamer by designing it to pack down to about half the size of other, comparable sleeping pads on the market. With a packed size of 15" x 10.5", the Roamer dominates this category when compared to the MegaMat 10's packed size of 31.1" x 9.9".
Importantly, this makes it much easier to store the Roamer in a gear closet or fit into a sedan that's already packed to the gills with all your camping gear, two kids, and a dog. This also makes it easier to pack a 2-person sleeping pad option, as opposed to the massive MegaMat Duo, which essentially needs its own car-seat.
Advantage: NEMO Roamer Sleeping Pad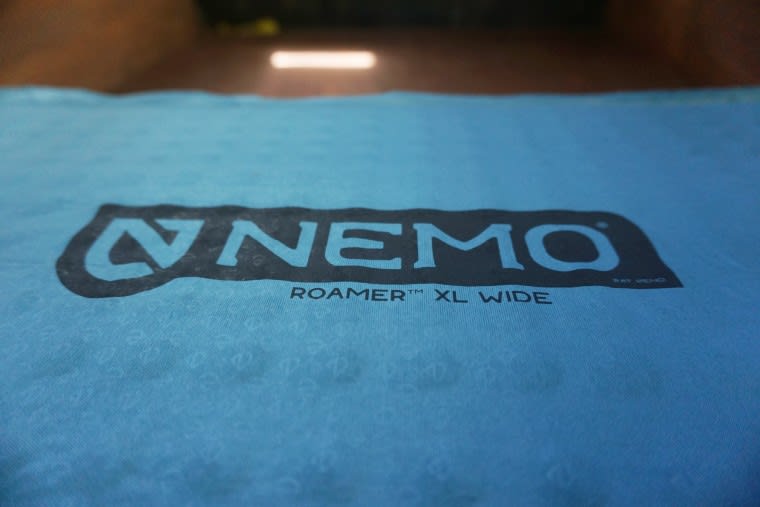 Conclusion
No two pieces of gear are the same, and the NEMO Roamer and Exped MegaMat 10 are no exception to that rule. Either of these sleeping pads are going to perform incredibly well in almost any circumstance. And yes, they also work well as an air mattress for your brother who wants to come visit but doesn't want to pay for a hotel room. That said, different campers value different features, which is why we're here, to make sure you get what you need. Per usual, the "best sleeping pad" comes down to what you're looking to get out of it.
If you value comfort, cushion, and warmth above all else, the MegaMat 10 is for you. The plush surface doesn't make you feel like you're sleeping on a plastic bag, and the pad provides unparalleled support. The extra cushion makes it ideal for side-sleepers or anyone who tosses and turns throughout the night.
If, on the other hand, you're a bit tight on space in the gear closet and want the potential to combine two sleeping pads together with no gap in between, the NEMO Roamer is what you're looking for. Its compact size makes it easy to transport while still offering plenty of cushion between you and the cold, hard ground.
About the Author
Dan Goodman
Most of the year, Dan can be found chasing the best climbing conditions he can get his hands on, and in the dead of winter, he'll settle for chasing powder on his snowboard. He's constantly seeking out better gear, testing new climbing shoes, backpacks, sleeping bags, and more to make his life in the outdoors a bit more comfortable. When he's not outside putting his gear to good use, he's writing about the products that he knows best.