Posted by Derek Newman on 12th Oct 2023
Should rock climbing shoes feel painful?
It's probably the first thought every climber has when we try on our first pair of climbing shoes, and it's so difficult to answer because pain is relative. If your foot loses circulation the second you slip in, then you're probably experiencing pain that no climber should ever feel. The point is there is a weird middle ground that most have to consider when they're willing to sacrifice comfort for performance.
Simply answered, climbing shoes should not feel painful. Any amount of serious pain could cause problems down the road, and those aren't worth the price of any onsight. For clarity's sake, we'll refer to the kind of pain we're talking about as discomfort for the rest of the blog.
Here are some helpful tips to consider when you're searching for the best climbing shoe for you.
Try Before You Buy
The best advice we could give you would be to come down to Campman's Warehouse and try climbing shoes of varying brands, shapes, and sizes before you buy. With the massive variety of different foot shapes, every climbing shoe fits differently to everyone. If you have friends swearing by a certain shoe or brand, you'll never know if it fits you personally until you try. La Sportiva climbing shoes can fit very differently when compared to SCARPA climbing shoes, even in the same size.
If you're too far from Campman, be sure to keep an eye out at your local climbing gym or community for gear demos. Sponsored brands of climbing competitions and festivals usually bring their shoes for climbers to rent for a day. It's an excellent opportunity to try on and actually use a plethora of climbing shoes.
Profile & Asymmetry
The first consideration most climbers make when shopping for a climbing shoe is its side profile, which is either flat or curves into a downturned position. A shoe's profile generally dictates its specific use.
There are three profiles worth considering: flat, moderate downturn, and aggressive downturn, and although they don't directly equate to comfort, it's generally the case that flatter shoes are more comfortable and downturned shoes are least comfortable.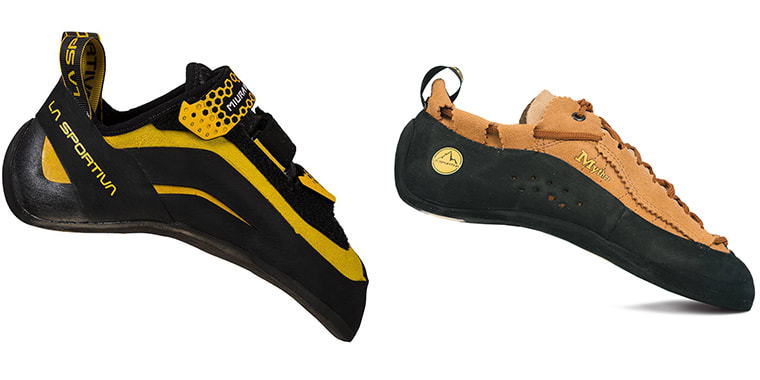 The only exception to that case can be found in a shoe's asymmetry, which is usually classified in low, moderate, or high. Low asymmetry directs the big toe straight down centrally to the heel. The more asymmetric the shoe, the farther the big toe angles to the side for a more powerful performance. We'll go over each profile and their relation to asymmetry.
Although there are exceptions, flatter shoes have low asymmetries for better comfort, and downturned shoes have higher for better performance.
Flat
A flat profile keeps your foot in a natural resting position, which is usually a lot more comfortable than downturned alternatives. This is the perfect profile for beginners, multi-pitches, cracks, and slabs, prioritizing comfort over performance.
Flat shoes with low asymmetries – like the La Sportiva Tarantulace – are the comfiest climbing shoes out there. They're perfect for beginners in climbing gyms. High asymmetric, flat shoes like the La Sportiva TC Pro provide more power and plenty of comfort for multi-pitches.
Moderate Downturn
As a climbing shoe's profile starts to curve, you drastically start sacrificing comfort for performance. Moderately downturned shoes are generally for beginner to intermediate climbers looking to step up their game after a couple months. Just like flatter shoes, the more asymmetric the shoe, the more specialized its performance.
The Evolv Kira is an example of a moderately downturned climbing shoe with a comfortably low asymmetry. It's an ideal choice for a beginner wanting to attempt steeper climbs. If you want a sharper asymmetry for more performance, a shoe like the SCARPA Vapor is more up your alley.
Aggressive Downturn
Fine-tuned for performance over comfort, aggressively downturned climbing shoes are generally the least comfortable in the bunch. Just like all other profiles, there are varying degrees of discomfort when it comes to the asymmetry of all aggressive downturn climbing shoes.
A good example of an asymmetric, highly downturned climbing shoe is the La Sportiva Solution. Climbers who have worn them for years will swear by their comfort, but it definitely takes some getting used to. For a comfier, aggressive climbing shoe, we'd recommend the La Sportiva Katana.
Stretch
Another crux of fitting climbing shoes comfortably is that every upper stretches to some degree.
The trick is to find the perfect fit in the warehouse, and then size down a half or even a full size so the shoe stretches to the perfect fit, which we'll define as a pain-free feel with no dead space and minimal discomfort..
Leather
Unlined leather uppers certainly stretch the most, some say up to a full size. Since they stretch so much, leather climbing shoes end up conforming to your foot's shape and giving a supremely comfortable fit if you nail the initial sizing.
Lined leather shoes will also stretch, but less than unlined leather. Even if a shoe's upper only lists leather, be sure to check the image for any panels that might be synthetic, because those will reduce stretching somewhat.
Synthetic
Full synthetic uppers stretch the least. Many vegan climbing shoes are made with a synthetic upper, like the Evolv Shaman. A favorite among rising climbers, the Shaman uses a synthetic upper to maintain a consistent, pro-level fit and performance from the first time you try on the shoe until the last redpoint.
If you're interested in Vegan options or just synthetic materials in general, there a plenty of Evolv and SCARPA climbing shoes to choose from. La Sportiva has recently added a number of Vegan shoes to their lineup as well, but their options are slightly more limited.
Fit & Size
Unfortunately, there isn't a universal size for climbing shoes. Not only do they vary in European and American sizing, but sizing can feel different across brands, and maybe even some shoes, too. In a size 42, La Sportiva's Miura feels vastly different from SCARPA's Boostic despite having a similar profile.
Although fitting a new shoe can be tricky, if a climbing shoe you're interested in buying has the same last as a climbing shoe you've worn comfortably before, chances are the same size might fit you comfortably, too. It isn't guaranteed, but it's a start.
Volume
Foot volume can also play a large role in sizing your climbing shoes. Some climbing companies have started designing climbing shoes in multiple fits for high and low volumes, which is super helpful if you know whether your foot's narrow or wide. SCARPA's Drago and Drago LV climbing shoes are perfect examples.
Similarly, if a climbing shoe has both a men's and a women's version, the women's is generally a low-volume version of the men's. If you have narrow feet, you should consider trying on women's versions of climbing shoes regardless of your gender, and vice versa with wide feet and men's shoes.
Conclusion
Rock climbing shoes shouldn't feel painful, but there's a level of comfort that you have to sacrifice if you want to climb. There are plenty of considerations to make depending on what you want to climb, what your foot's shape is, and how much discomfort you're willing to deal with.
Of course, you'll never know how a climbing shoe fits until you've tried multiple sizes for yourself. There are plenty of considerations to make before you hand a list of climbing shoes in various sizes off to our Campman staff, and we hope this blog helps some, for our staff's sake and your feet.