Posted by Derek Newman on 4th Apr 2023
Even if you're brand new to camping, there's a good chance you've seen an Exped sleeping pad before. With a vast array of sleeping pads, Exped's a popular brand for camping, backpacking, and even mountaineering. Whether you want a cushy foam pad for car camping or an ultralight, ultra-packable air pad for backpacking, Exped has an option for you. But with so many options, it can feel overwhelming to choose the right one. Thankfully, this guide will help figure out precisely which pad will give you the best snooze.
How Far From The Car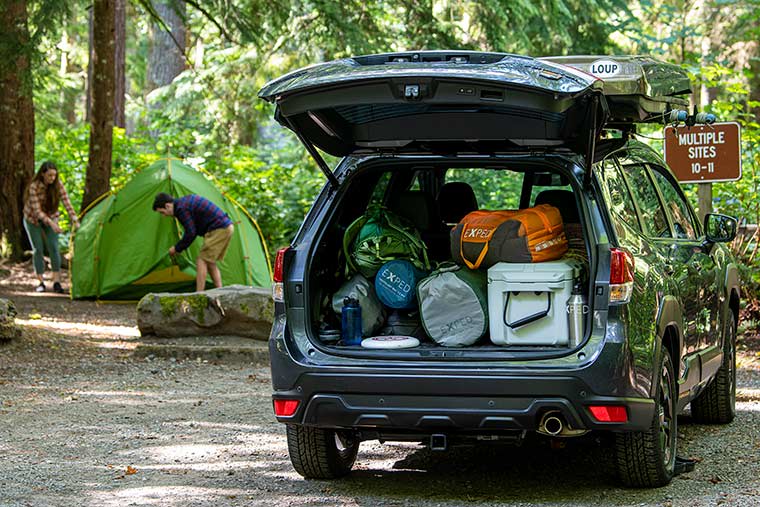 The first consideration to make is what kind of camping you want the pad for. Are you camping right next to the car? Or are you trekking far from any parking lot? Most Exped pads are made for either car camping or backpacking. Backpacking sleeping pads weigh less and pack small for an easier hike. Car camping sleeping pads usually have more cushioning for extra comfort at the campground.
How Cold Is It Outside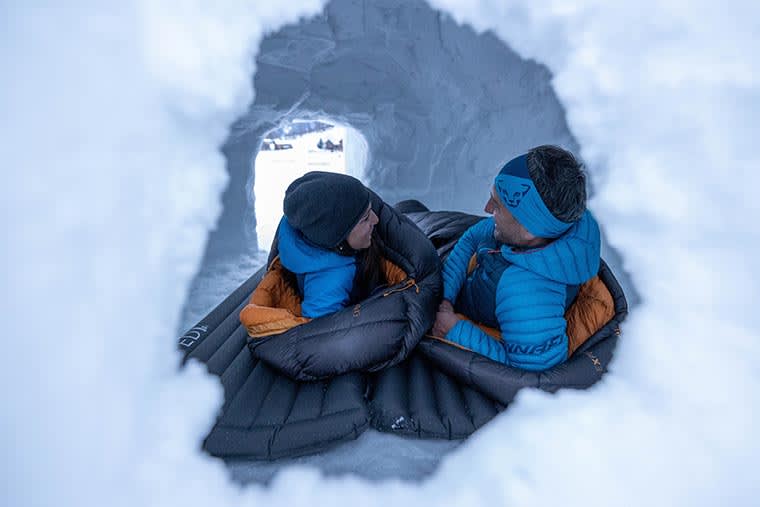 Now you need to determine which seasons, temperatures, and climates you plan on exploring. Most sleeping pads have an R-rated value that indicates how warm it is. In the past, R-values were thought of as unreliable, but sleeping pad R-values were standardized in 2020, making it easy to understand the thermal resistance or warmth of a pad on a sliding scale.
Pads with a 1 R-value have little to no insulation for summertime adventures. R-values can go as high as 10 for winter trips, and the mid-range values are versatile enough for most year-round trips.
Lucky for you, Exped includes an R-value estimate in every product title. For example, the Exped Ultra 5R is a lightweight sleeping pad with an R-value of 4.8.
If you want to know more about sleeping pad R-values, check out our post on the subject Understanding Sleeping Pad R-Values.
Foam or Air

Sleeping pads are available in three types of construction: foam, air, or a combination of the two. Any construction can and will work for backpacking or camping. Closed-cell foam pads remain a popular choice for durability-focused or budget-conscious backpackers while air inflatable pads for backpacking are lighter and more packable. Alternatively, foam pads for car camping are typically more plush and comfier, while air pads for car camping aren't as expensive. Some pads combine the two together for light packability and plenty of cush, like the Exped MegaMat Duo 10 Sleeping Pad, which we recommend highly for a comfortable car camping experience.
Shape & Length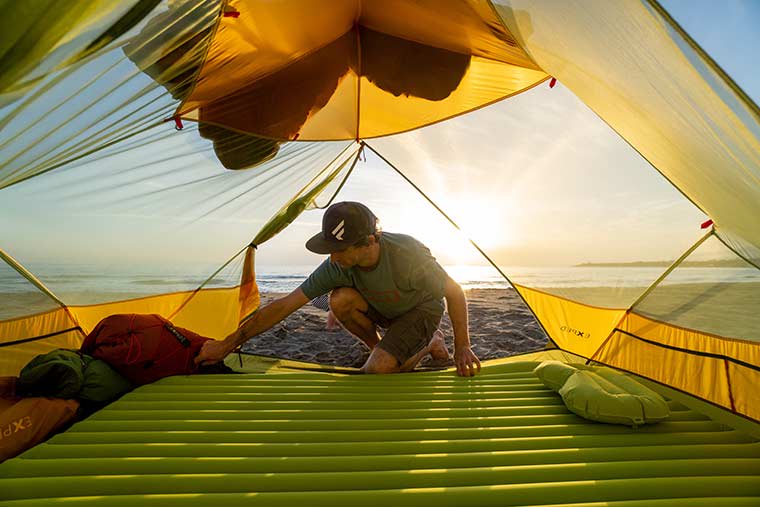 Every Exped pad comes in a variety of shapes and lengths to best fit your specific sleeping bag. Mummy pads slide into mummy bags to keep you from rolling off your pad in the middle of the night. Rectangular pads slip underneath rectangular bags. And duo pads cradle a couple in duo bags. Within these bag shapes exists a handful of different lengths to accommodate tall, regular, and short sleeping bags.
Exped's Sleeping Pads
Now that we've covered the main features and differences between sleeping pads, let's dive into Exped's collection of comfy pads.
Our Pick for Backpackers
Exped Ultra Sleeping Pads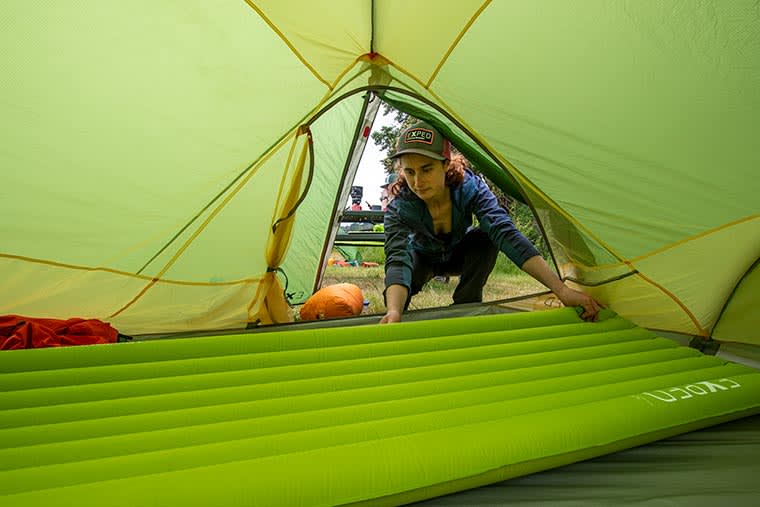 Exped's Ultra Series of sleeping pads are the lightest, most packable options for backpackers, alpinists, and mountaineers. Between 11 and 24 ounces each, the solo-sized Ultras won't weigh you down on long, tough trails. There are even pads sized for two that you can take backpacking. The warmer, winter-worthy options are insulated with 700-fill down, and all options are air-inflatable and include Schnozzel Pumpbag for breath-free pumping. If pack weight is critical to you, this is the pad family you want to choose.
Our Pick for Car Campers
Exped MegaMat Sleeping Pads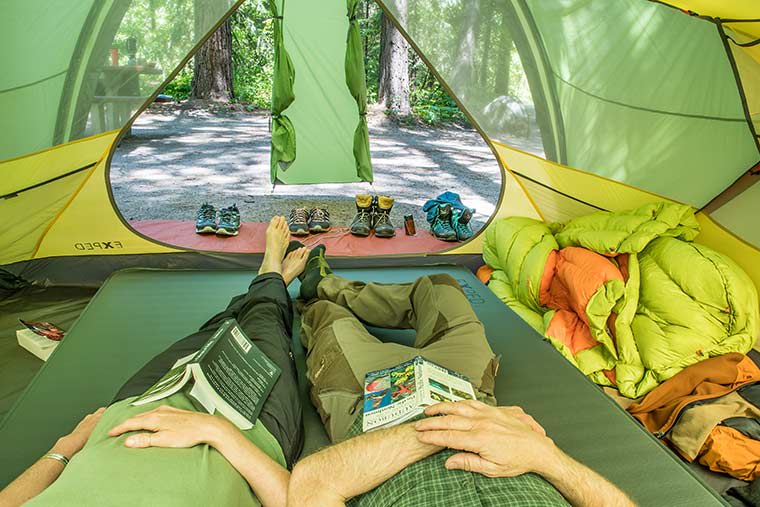 The MegaMat Series consists of the comfiest sleeping pads that Exped makes, meaning they're larger and bulkier than the other options in Exped's lineup, and thus perfect for car campers. They include pads ranging from 4-inches thick (Exped MegaMat 10 Sleeping Pad) to a whopping 6-inches thick (Exped MegaMat Max 15 Sleeping Pad).
Why the Exped MegaMat Is Such a Great Pick for Car Campers
Air-channeled foam is somehow second-softest to the topsheet-like external fabric. They're also self-inflating sleeping pads so you can leave it in the tent while you pull the rest of the camping gear out of your car. The MegaMats are also Exped's most expensive options, but for those who can't live without home-like creature comforts, it's well worth the price. They're available in more shapes than any other series, and they even designed the Exped MegaMat Duo to fit in the back of most SUVs, trucks, and vans with both a Medium and Long Wide option.
Our Pick for Budget Comfort
Exped DeepSleep Sleeping Pads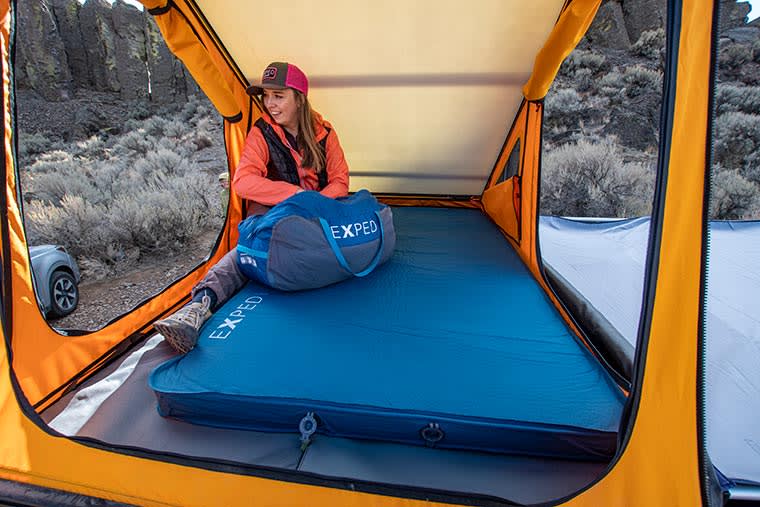 The DeepSleeps have plenty of cush, similar to the MegaMat except at a lower cost, making them ideal for car campers on a tighter budget. Features like the self-inflation might have been stripped away, but the pads still retain that same log-sawing softness. Only slightly less thick than the MegaMat, the DeepSleep lineup is still 3" thick, offering plenty of space between you and the cold hard ground. So while you give up some convenience, you're still getting comfort that's second only to your bed at home.
Our Pick for Budget Backpacking
Exped Versa Sleeping Pads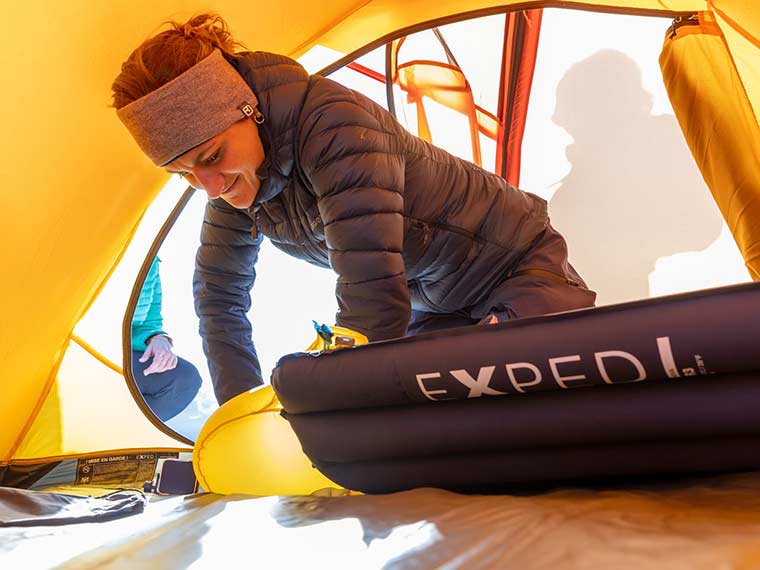 Exped's versatile Versa Series treads the line between camping and backpacking with an inexpensive price tag. Best used by campers who take the occasional backpacking trip, the Versa Sleeping Pads are air-inflatable and packable enough for the annual summer trek, while still being plenty comfy for camping with friends in BLM areas. Despite a cheaper price, Versa models still have innovative features like an integrated pump sack so you can save your breath for campfire chit chat.
Our Pick for Cold-Weather Backpacking & Expeditions
Exped Dura Sleeping Pads
Exped only made the Dura Series of sleeping pads with a 5 R-value or higher to specify its use for expeditions. Whether summer or winter, the alpine's always too cold for non-insulated sleeping pads. The Dura Sleeping Pads provide enough warmth for year-round alpinism, and they're super packable for backpacking, even the duo-shaped pads.
Conclusion
There are even more Exped Sleeping Pads than what you can find on Campman, and no matter how outdoorsy you are, Exped has a sleeping pad for you. Finding the right pad is mostly a matter of deciding what type of camping you'll be doing, what time of year you'll be doing it, and how much you're willing to spend on backcountry comfort.
About the Author
Derek Newman
Born in the Wasatch, Derek has had an affinity for mountain life since day one. He was on skis the year he learned to walk, and as a high school graduation present he gifted himself rock climbing lessons. Nearly two decades later, Derek spends most of his time climbing up and/or skiing down most of the mountains around Salt Lake City, and he's traveled around the world multiple times for the sole purpose of peak exploration. When he isn't a man about camp, he's working in Campman's content marketing crew writing up blogs about backcountry skiing or rock climbing as well as describing products that he's used personally. He's climbed in most climbing shoes, toured on most backcountry skis, and ridden the resort on skis, snowboards, and even some evac sleds.